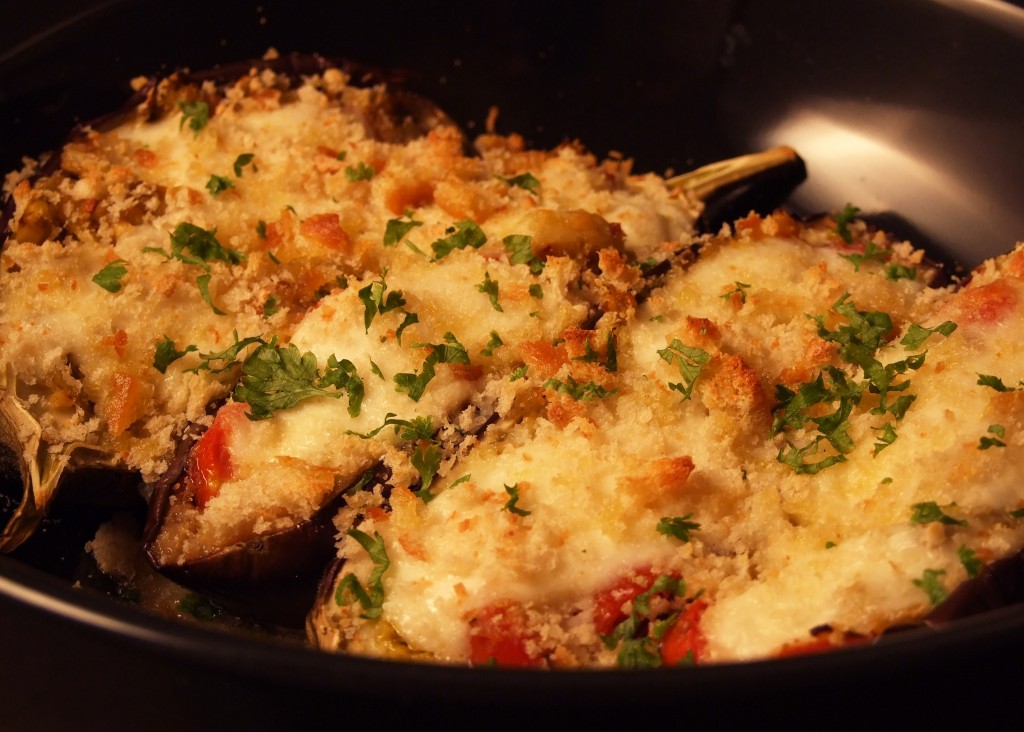 Stuffed aubergines always look like they take a lot of skill to pull off but they're actually really simple to put together. It's also a really flexible meal to cook because you can fill them with pretty much anything you've got in the fridge.
If you're after a small, light meal then you could just go with a little cheese and tomato filling. If you're looking for something more substantial then you could fill the aubergine with rice, quinoa or cous cous.
Even if you're not a huge fan of aubergine in other meals, you may like this – that's definitely the case with Laura. Whenever I make a meal with lots of aubergine in it, I'll see her picking it out with her fork and placing it to one side (or hiding it under something else to try and be sneaky!). When I cook these though, she loves it.
Give them a try because they're so cheap and easy to make, plus they can make for a great lunch snack to bring into the office. I'm sure you'll get a lot of jealous looks from your co-workers as well.
Italian Stuffed Aubergine
Ingredients
1 onion (diced)
2 aubergines
200g vine cherry tomatoes (halved)
2 cloves garlic (finely chopped)
1/2 lemon (juice)
1 tsp dried oregano
10 basil leaves
125g mozzarella (veggie friendly)
2 tbsp olive oil
50g white breadcrumbs
Method
Preheat the oven to 200 degrees Celsius / gas mark 6 / 400 degrees Fahrenheit.
Take your two aubergines and half them lengthways, keeping the stalk intact. Using a sharp knife, cut a 1cm border around the inside of each aubergine half and scoop out the middle using a spoon. Don't throw away the aubergine that you've scooped out - you'll need this later.
Wrap the aubergine halves in tin foil and place them in the oven for 20 minutes.
Heat a separate frying pan over a high heat with 1 tablespoon of olive oil in it. Once the oil has heated up, add the onion, garlic, tomato and aubergine stuffing to the pan and fry for 5 minutes, stirring regularly.
Add the oregano and the juice of half a lemon to the frying pan and fry for another 3 minutes. once this is done, take the pan off the heat and put it to one side.
Once the aubergines have baked, remove them from the oven, unwrap the tine foil, ensuring you don't burn your hands on the hot steam, and then tip out any excess water that may be inside them. Now leave them to cool for a minute.
Once cooled slightly, stuff the aubergine skins with the contents of the frying pan. Once each aubergine half is full, layer over some torn basil leaves, a handful of breadcrumbs and then slices of the mozzarella so that each half is covered. Drizzle over the remaining olive oil and place within the oven, turned down to 180 degrees (350 degrees Fahrenheit / Gas mark 4), for 15 minutes. Don't cover the aubergines this time, just place them on a baking tray.
Once they're ready, carefully remove them from the oven and leave them to site for a minute before serving.
https://pescetarian.kitchen/italian-stuffed-aubergine/
Copyright Pescetarian.Kitchen