The rich autumnal flavours of this tart make it perfect for any Autumn dinner parties you may be having. Stunning and fairly simple to make, this plum tart is mouth-wateringly good. I always prefer to make my own short crust pastry, but shop bought is fine if your low on time.
If you are making your own pastry, you can adapt to suit you; I've used nutmeg, however cinnamon or orange zest would go equally well in this wonderful dessert.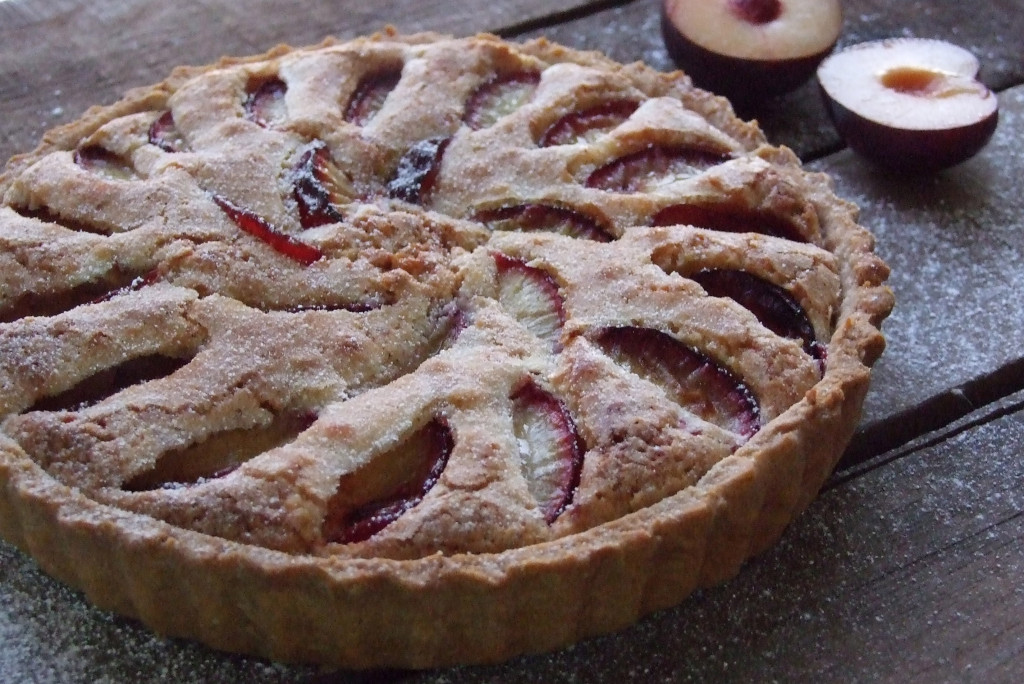 Ingredients
Shortcrust Pastry

250g plain flour
50g icing sugar
125g butter – cubed
Pinch of nutmeg
1 large free range egg - beaten
Splash of milk

Tart

50g softened butter
65g caster sugar
1 large free range egg – beaten
1 tsp vanilla extract
70g ground almonds
75g plain flour
6 plums – halved, pitted and cut into eights
Method
To make the sweet shortcrust pastry, sieve the plain flour into a clean surface from a height, then sieve the icing sugar on the top of it.
Then place the cubes of butter onto the flour and icing sugar and combine, until the mixture becomes crumby. Try to do this quickly, to avoid the butter getting too warm. I like to run my hands under the cold tap first, to keep my fingers cold. Then add the nutmeg to the mixture.
Once the butter is all rubbed in, you need to add the egg and milk and work the mixture together into a dough ball. Lightly flour the dough and flatten slightly into a round, then wrap in cling film and add to the fridge. Chill for at least 30 minutes. Whilst the dough is in the fridge, grease a small fluted tart tin.
Remove the pastry from the fridge and place onto a lightly floured surface. Use a rolling pin to roll it out and place into a fluted tart tin. Push the pastry into the corners and fluted sides using a small piece of excess pastry, dipped in flour (to avoid it sticking). Place the pastry in the fridge and chill for a further 30 minutes.
Whilst the pastry is chilling, you need to make the frangipane. Beat together the softened butter and 60g of the caster sugar in a large mixing bowl. Then add the egg and vanilla extract in small amounts, beating thoroughly each time.
Once the egg has been incorporated, fold in the flour and ground almonds, and your frangipane is done!
Preheat your oven to 180 degrees Celsius / 350 degrees Fahrenheit / Gas mark 4. Pull the pastry out of the fridge and dollop in the frangipane, making the surface smooth and even. Then take the plum segments and place on top of the frangipane, pressing slightly into the mixture. Sprinkle your remaining 5g of caster over the tart and place into the oven to cook for roughly 45 minutes, until the pastry is golden and the plums have softened.
Once removed from the oven, sprinkle with icing sugar and serve.
https://pescetarian.kitchen/plum-frangipane-tart/
Copyright Pescetarian.Kitchen