Quesadilla couldn't be simpler to make and it tastes fantastic. I used to make quesadilla all the time when I was at university because it's seriously cheap to make and you can often muster something up with very little ingredients.
Within this recipe, I've kept things fairly similar because this is how I like it best. There's a nice kick from the chillies and paprike, but also a rich sweetness coming from the peppers and tomatoes.
I'd recommend frying your tortillas within a griddle pan, but a non-stick frying pan will work just as well if you've not got access to a griddle pan.
My favourite dips to serve with quesadilla have to be a generous dollop of creme fraiche, some guacamole or a small ramekin of fresh salsa.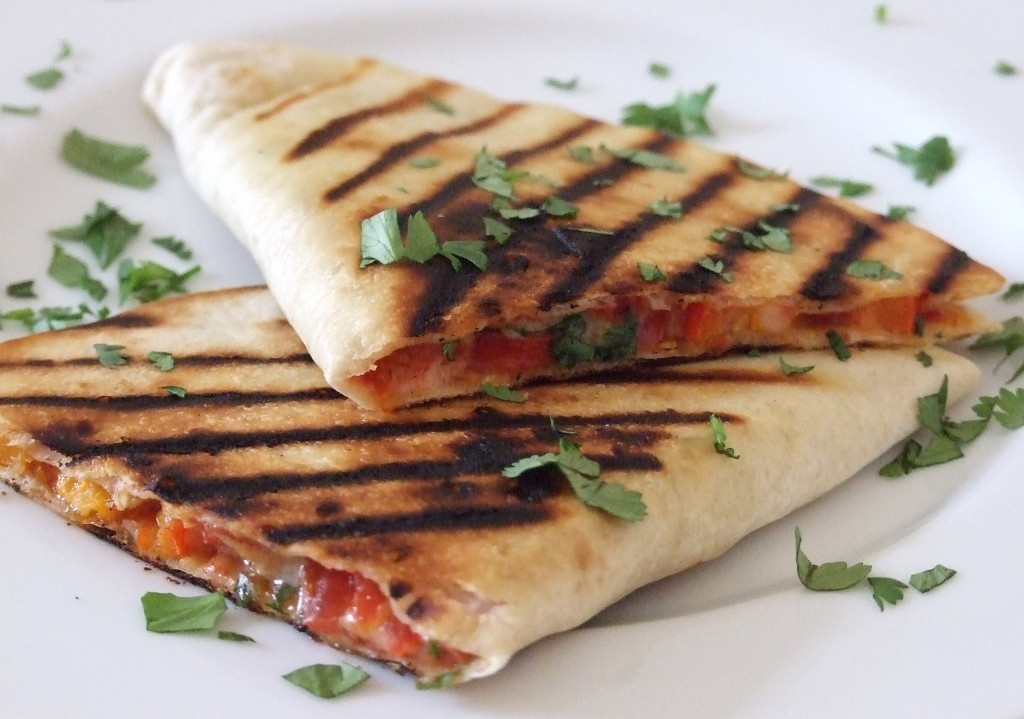 Vegetarian Quesadillas with Cheese
Ingredients
1/4 vine tomato (diced)
1 tsp tomato purée
1 spring onion (chopped)
10g fresh coriander (chopped)
1 tsp lime juice
50g mature cheddar
1/2 tsp smoked paprika
1/4 red chilli (chopped)
1/4 baby red pepper (chopped)
1 tsp olive oil
1 flour tortilla
1 tsp creme fraiche
Method
Lay your tortilla out on a flat surface and spread the tomato purée evenly over one side of it.
Mix your chopped tomato and lime juice, then spread it over one half of the tortilla. Along with this, add the spring onion, coriander, chilli, pepper and paprika.
Now place the cheese over the top of the rest of the ingredients, making sure you've only covered one side of the tortilla. Fold the tortilla in half, encasing all of the ingredients in the middle and the lightly coat each of the outer sides with olive oil.
Place the tortilla in a preheated griddle pan and cook for no longer than one minute on each side.
Serve up with a generous dollop of creme fraiche, guacamole or tomato salsa.
https://pescetarian.kitchen/vegetarian-quesadillas/
Copyright Pescetarian.Kitchen