Up until around two months ago, I'd never tried moqueca before. Laura and I were out for dinner, I saw it on the menu and thought I'd give it a go. I wasn't disappointed.
Moqueca is a Brazilian dish and it usually contains stewed fish or seafood in coconut milk with a whole host of vegetables. It's a perfect feel-good meal.
I've actually made this without any fish, so it's completely vegetarian-friendly, but I'm going to be making a fish-based Moqueca over the next few weeks.
It's worth mentioning that the actual vegetables that you use within the dish can be changed to suit what you love, so get creative!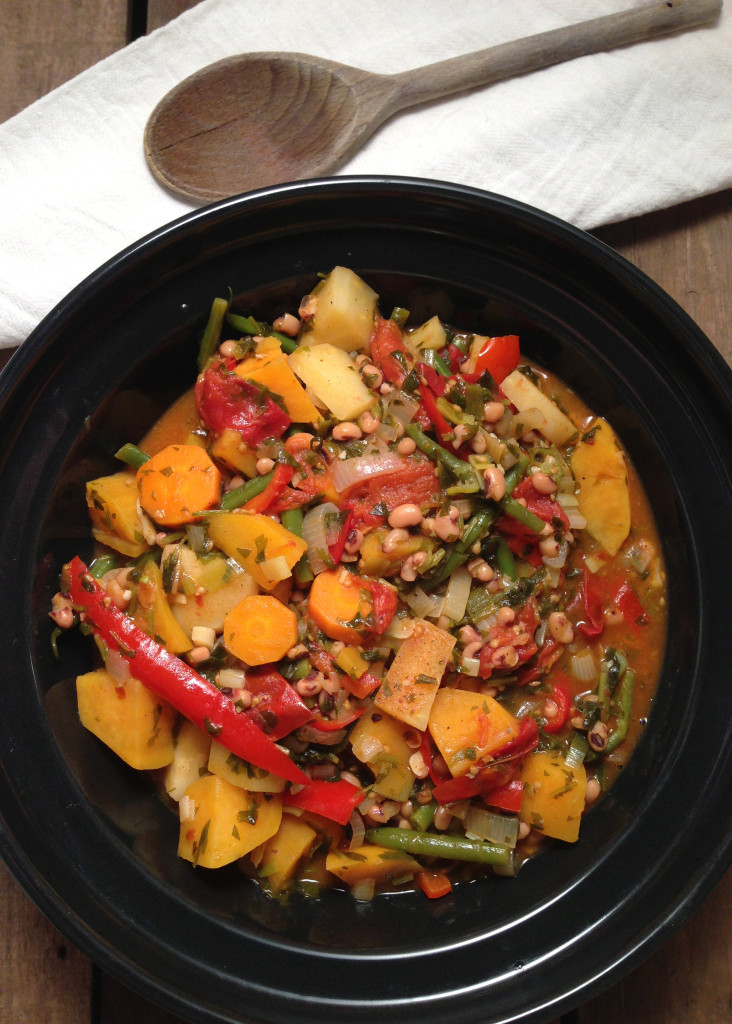 Ingredients
150g vine tomatoes
1 sweet potato
1 clove garlic
3 spring onions
1 echalion shallot
1 lime
2 kaffir lime leaves
200ml coconut milk
1 tsp fresh ginger
1 carrot
1 parsnip
1 okra
1 red pepper
80g green beans
30g fresh coriander
30g flat leaf parsley
1 tsp ground nutmeg
1 tsp salt
1 tbsp rapeseed oil
100g black eyed beans
Method
Roughly chop the spring onion, shallot, okra and garlic. Heat the rapeseed oil in a deep pan over the hob on a high heat. Once the oil has heated up, add in the spring onion, shallot, okra, tomatoes and garlic, and then cover the pan. Leave the vegetables to fry for 3-4 minutes, stirring frequently.
Meanwhile, peel the sweet potato and chop it into small chunks (around 4cm cubes should be fine). Add the potato to the pan and fry it for another 2 minutes with the lid on.
Now turn the heat down slightly and add the green beans, coriander (finely chopped), parsley (finely chopped), parsnip (peeled and roughly chopped), carrot (peeled and roughly chopped), red pepper (sliced into strips), ginger, salt and nutmeg. Mix everything well and keep the lid off of the pan. Fry everything together for another 2 minutes this way.
Add the black eyed beans (make sure you drain and rinse them if you've got them from a tin), the juice of the lime and all of the coconut milk. Mix everything together well and add in the lime leaves. Keep the pan uncovered and bring the milk to the boil. Once it's boiling, turn back down the heat and leave to simmer for 20 minutes.
Finally, remove the lime leaves and serve up on it's own or with some steamed rice.
https://pescetarian.kitchen/vegetable-moqueca/
Copyright Pescetarian.Kitchen