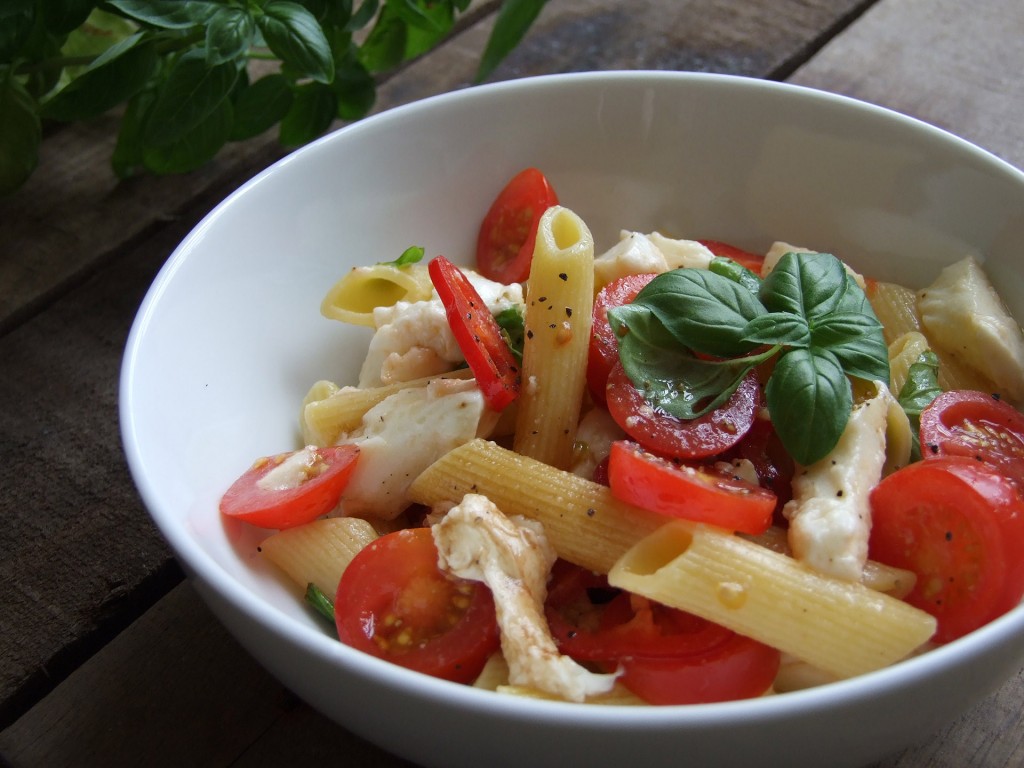 There's nothing like a fresh Italian salad on a hot summer's day.
This caprese salad with fresh penne pasta is light, fresh and perfect as a lunchtime snack. Not only that but it'll last for 2-3 days in the fridge; a quick squeeze of lemon can freshen it up after a few days too.
The other great thing about this recipe is that it will take you a maximum of 10 minutes to prepare and cook. The pasta is the only part that you have to cook and it's usually ready within a couple of minutes.
If you're cooking for a large group then you can prepare this caprese salad as a side dish to accompany some fresh mussels or tuna steak. To be honest, it works well with most fish and seafood.
Wherever you can, try to use organic produce within your meal; organic food is becoming more and more accessible, especially for fruit and vegetables. It's better for the environment and in my opinion, organic food tastes much better.
Organic Caprese Pasta Salad
Ingredients
200g fresh penne pasta
100g vine cherry tomatoes
1/2 red pepper
100g mozzarella
10ml extra virgin olive oil
10ml balsamic vinegar
Handful fresh basil
Pinch salt
Pinch pepper
Method
Bring a small saucepan of salted water to the boil and add the fresh penne pasta to it. Follow the directions on the packet for cooking times; usually it takes between 2-5 minutes. If you only have dried pasta then this is ok, just allow for between 10-15 minutes of cooking time.
Drain the pasta and rinse in cold water. Pour the pasta into a large mixing bowl, season with salt and pepper, and leave to one side.
Roughly chop the tomatoes in half, the pepper into thin slices and then rip the basil leaves into smaller pieces. Tear the mozzarella into smaller, thinner strips and then mix all of the above in the mixing bowl that contains your cooked pasta.
Add the olive oil and balsamic vinegar to the mixing bowl and toss everything together with your hands. Transfer the caprese pasta salad into smaller serving bowls and enjoy with a cold beer or glass of wine.
https://pescetarian.kitchen/caprese-pasta-salad/
Copyright Pescetarian.Kitchen