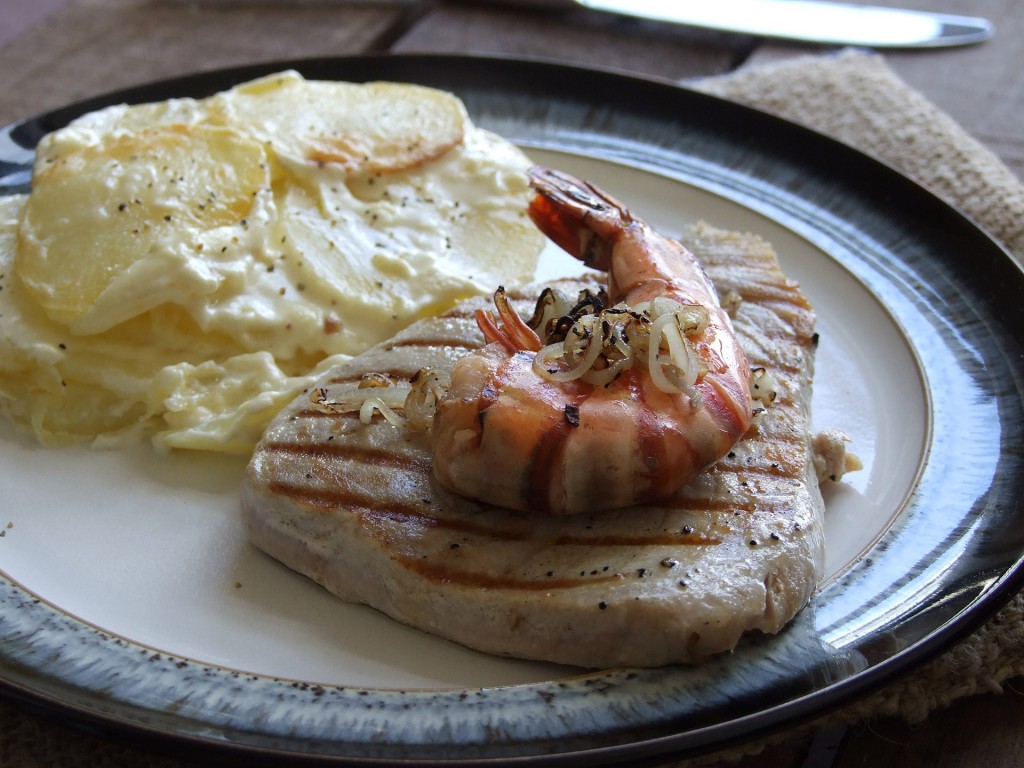 Both Laura and I love tuna steak. It's really simple to cook and has so much flavour that you don't need to do much to it for it to taste great.
To add a little crunch to the dish, one large tiger prawn with it's shell on will do the trick. If you're planning a barbecue then I'd highly recommend the tuna and prawn combo!
If you're not a huge fan of dauphinoise potatoes or you just want a slightly healthier version then you can swap this for a side salad or some fresh cous cous.
Just one thing, don't be tempted to swap the double cream for single cream when making dauphinoise potatoes because it'll just split and go terribly wrong.
Surf & Surf with Dauphinoise Potatoes
Ingredients
Dauphinoise Potatoes

250g Maris Piper potatoes
1 clove garlic
100ml double cream
Pinch of salt

Seafood

350g organic tuna steak
2x large organic king tiger prawns
1x echalion shallot
10ml olive oil
Method
Preheat the oven at 200 degrees Celsius / 392 degrees Fahrenheit / Gas mark 5.
Peel the potatoes and cut them into thin (5mm) discs. Layer them into a deep oven-proof dish and pour over a small amount of cream and finely chopped garlic after each layer. Do this until you get the top of the dish. The cream shouldn't be filled to the top, it should be about half full but with all of the potatoes lightly covered. Make sure you also season the potatoes with salt.
Place the oven-proof dish into the oven for 30 minutes, or until the top starts to crisp.
After 20 minutes (i.e. the potatoes have 10 minutes left in the oven), place the prawns on a griddle pan over a high heat. Be sure not to add oil to the pan or it'll just start smoking everywhere.
Finely chop the shallot and add it to the pan so that they cook into crispy little flakes.
Turn the prawns over after 5 minutes and then add the tuna steaks to the pan. Before you add the tuna steaks, lightly coat them in olive oil and season them well with salt and pepper. The tuna steaks will only need 2 minutes on each side (max).
Remove the dauphinoise potato from the oven and leave to stand for a couple of minutes whilst you plate up the fish. To serve, place a prawn on to of the tuna steak and then scatter over the crispy shallot. Once you've served up the seafood, spoon on some of the potato onto the plate.
https://pescetarian.kitchen/surf-surf-dauphinoise-potatoes/
Copyright Pescetarian.Kitchen