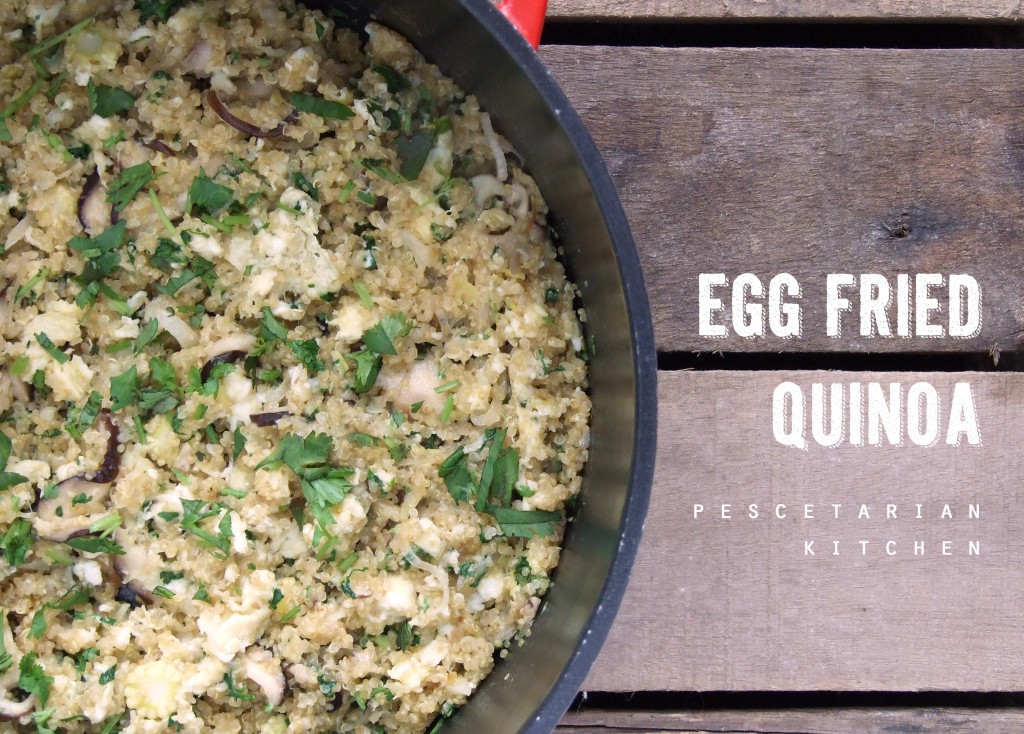 Egg fried rice is one of my favourite quick meals to knock up but since I've been playing around with different ways to use quinoa, this recipe has overtaken it.
Quinoa is a much more diverse ingredient than most people realise and I mean it when you wouldn't know that you weren't eating rice when you make this recipe. Not only that but it's much better for you and has a little nuttiness that elevates all of the flavours alongside it.
Whether you're making homemade veggie burgers, a fresh summer salad or a simple accompaniment to fish, quinoa should be top of your ingredients list!
Ingredients
250ml water
85g dried pearl quinoa
20ml sesame oil
100g shiitake mushrooms, sliced
1 clove garlic, sliced
2 echalion shallots, sliced
4 baby corn, sliced
20g fresh coriander, finely chopped
2cm cube fresh ginger, sliced
10ml light soy sauce
2 free range eggs
Method
Add the dried quinoa into a fine sieve and rinse it thoroughly with water. This just helps take some of the bitterness out of it. Once you've rinsed it, leave it to once side to dry.
Add the quinoa to a saucepan on a medium heat and stir it frequently for 2 minutes. This releases some of the nutty flavour from the quinoa (which you'll be able to smell). Just make sure you keep the quinoa moving otherwise it can burn. If you think it might be burning just turn the heat down slightly.
Add the water to your saucepan and turn up the heat until the water is brought to a boil. At this point, turn down to a medium heat and add the lid to your saucepan. Leave the quinoa to simmer for around 20 minutes or until all of the water is absorbed (you can also leave it an extra 5 minutes if it hasn't absorbed). Remove it from the heat and leave it covered to one side for 5 minutes.
Fluff the quinoa with a fork and then place the saucepan in the fridge to cool for 15 minutes (if your saucepan doesn't fit then you can just empty it into a bowl). This is a really important part of the process as you need the quinoa to dry out a little before frying it or it'll go all mushy and horrible.
In the meantime, heat a large frying pan or wok over a medium-high heat and add half of the sesame oil. After 20 seconds, add the sliced shallots, garlic and ginger to the pan. Fry these up for 1-2 minutes, stirring frequently and then add the mushrooms and baby corn, frying for an extra 3 minutes.
Pour in the rest of the sesame oil and then add your cooked quinoa. Stir everything together vigorously for 2-3 minutes, adding all of the coriander at this point.
Add in the soy sauce and stir everything around once more and then make a well in the middle of the pan by pushing the quinoa out to the sides of the pan. Crack in both of the eggs into the well that you've made (don't mix everything into the quinoa at this stage) and quickly beat them until they scramble in the middle of the pan. Once they've started to scramble, start mixing in the quinoa and fry for a further 30 seconds.
Remove from the heat and leave to sit for another 30 seconds before serving up into individual bowls.
https://pescetarian.kitchen/egg-fried-quinoa/
Copyright Pescetarian.Kitchen