In case you were wondering, messicani is just a type of pasta. It's really similar to macaroni except for the fact that it is in circular swirls.
This recipe is based on my macaroni cheese dish that Laura and I often pig out on when we're having a tough week of work (which seems to be more often than not) and the only change is with the pasta. The reason for this is simply because I love messicani pasta! You can pick it from all major supermarkets and you don't need to worry about having it fresh. Dried pasta will do just fine.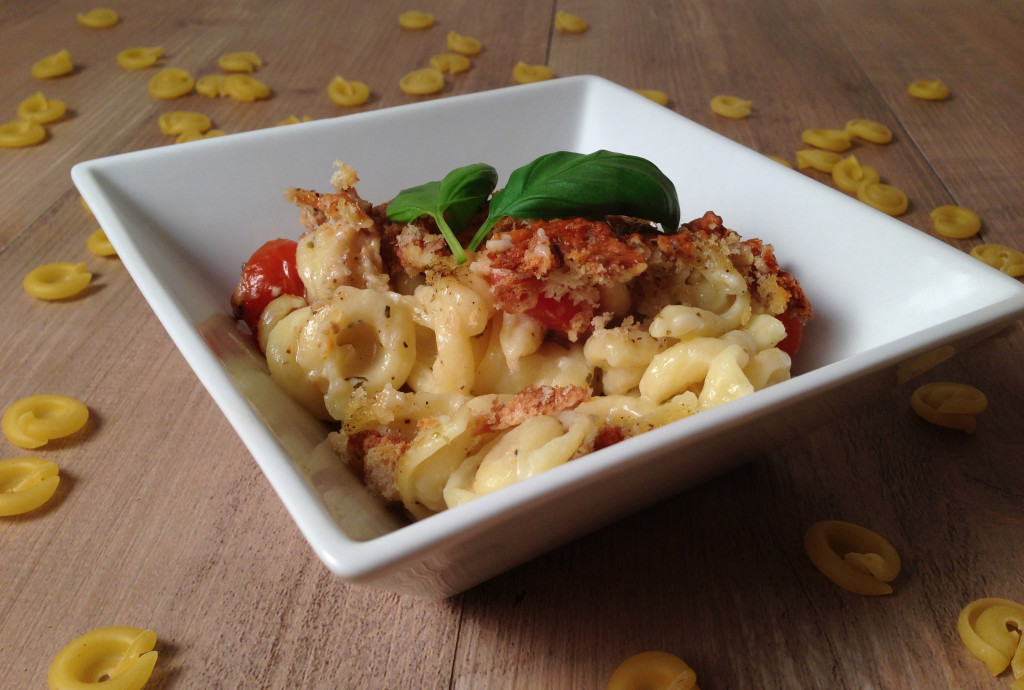 Ingredients
260g dried messicani pasta
100g cherry tomatoes (halved)
300ml whole milk
2 cloves of garlic (finely chopped)
10g salted butter
100g mature vegetarian cheddar
1tbsp plain flour
50g fresh breadcrumbs (equivalent to 1 slice of bread)
30g walnuts (crushed)
Handful of dried oregano
Handful of dried basil
Method
Boil the pasta in a saucepan of salted water for between 8-10 minutes (or however long it says on the packet).
Whilst the pasta is boiling, heat up some butter in a medium sized saucepan on a medium heat. Once the butter has melted, add the tablespoon of flour and the chopped garlic and mix it together to form a paste. Now gradually add the milk in small drops (around 50ml at a time) and mix really well with a whisk to ensure that there's no lumps in the sauce. Take your time with this and make sure that you don't throw too much milk in at once or you'll end up with a ruined sauce.
After around 5 minutes, turn up the heat and get the sauce boiling. Once you've done that, turn back down the heat and continue to stir, adding half of the cheddar to the sauce. Once you've stirred in the cheddar, take the saucepan off of the heat.
Drain off your pasta, salt and pepper it (a pinch of each) and then sprinkle over the basil and oregano. Add all of the pasta to a large oven-proof dish.
Add the tomatoes and pour over all of the sauce. Sprinkle the rest of the cheese on the top, along with the breadcrumbs and walnuts. If you don't have a food processor to make breadcrumbs with then you can just use your grater to grate through a slice of bread. I do this all the time and it works a treat.
Place the uncovered dish into a preheated oven at 200 degrees Celsius / 392 degrees Fahrenheit / Gas mark 5 for 25-30 minutes.
https://pescetarian.kitchen/messicani-cheese/
Copyright Pescetarian.Kitchen