We love cucumber cups so much we actually served them as canapes at our wedding. They're so pretty and simple and I love that they can be filled with pretty much whatever you want. The cucumbers make them really juicy and refreshing and because they have quite a mild flavour, there are so many fillings that work – from pates to different types of hummus, to guacamole or smoked fish. The possibilities are endless.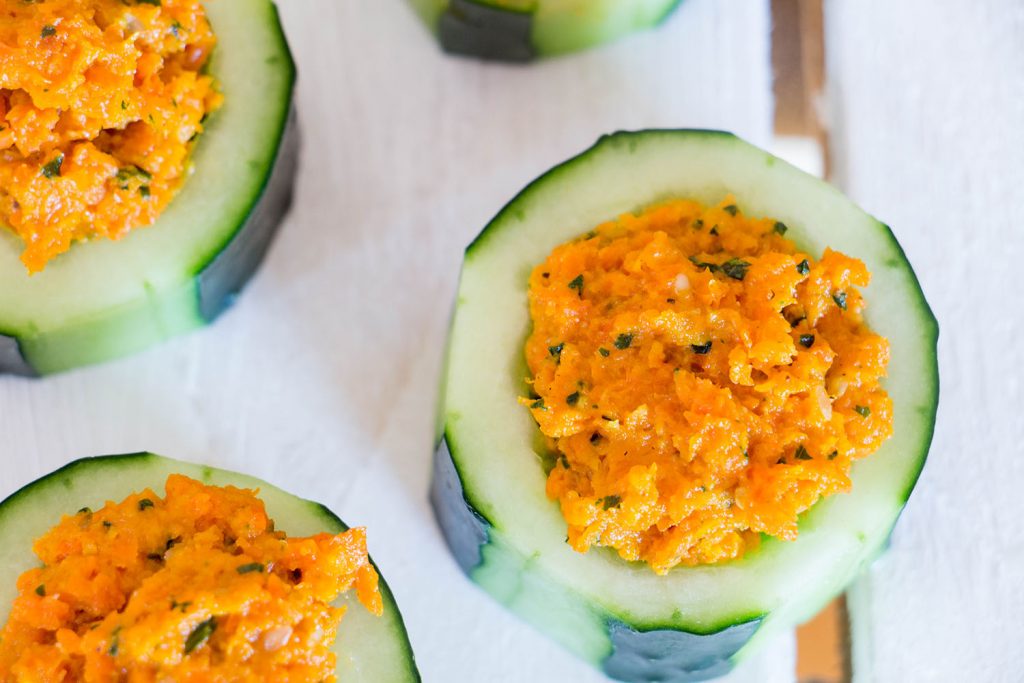 I went for carrot hummus in this instance because it's a great healthy option that's less fatty than regular hummus. I wanted something that tasted fresh and uplifting and carrot hummus definitely fits this bill. The honey gives it a little sweetness and works perfectly with the refreshing taste of the cucumbers. I roast the carrots before making the hummus as the flavour is infinitely times better that way. And you can do all of your prep whilst they're in the oven so it's doesn't cost you any more time. Win. Win.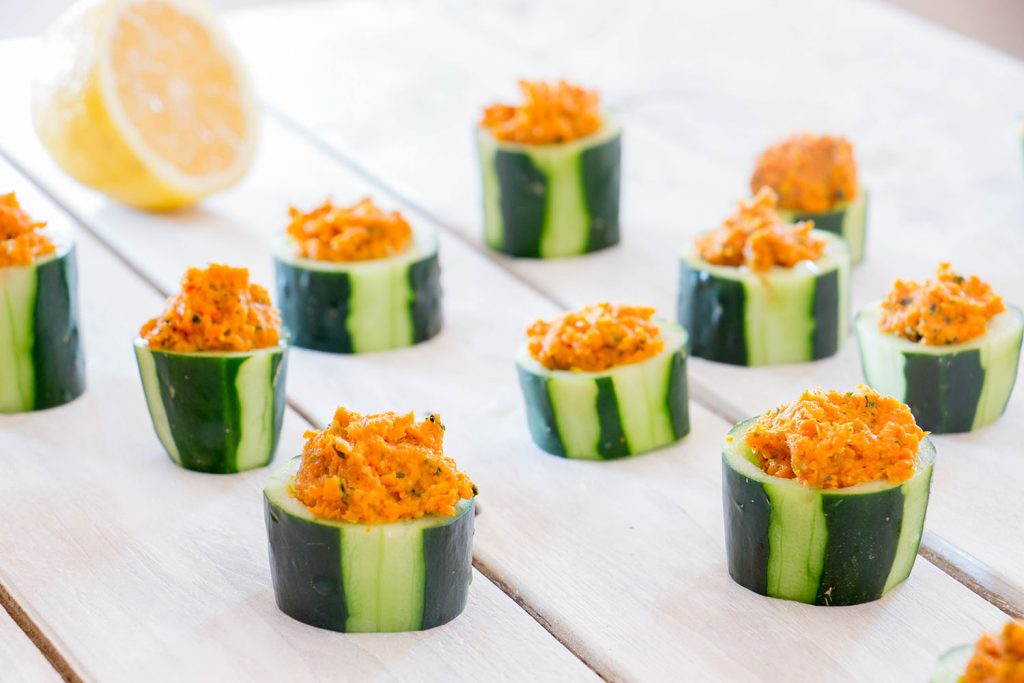 Cucumber cups are also a great gluten-free way to carry food that can't really hold itself – you don't want to be dipping fingers in shared hummus bowls, right? That's gross. So often, bread is the go-to vehicle for hummus and pates, which is sometimes more filling than you want and no good if you have a gluten allergy. Using cucumber cups instead means that you get a healthy, tasty and gluten-free vehicle for all your favourite dips and pates.
Carrot Hummus Cucumber Cups
Ingredients
1 lb carrots, peeling and cut into small sticks
3 cloves of garlic, peeled
3 tbsp olive oil
2 large cucumbers
1 tsp cumin
1 tsp ground coriander
1 tsp honey
1/2 tsp black pepper
1/2 tsp salt
3 tbsp tahini
2 tbsp lemon juice
1 handful chopped cilantro
Method
Preheat the oven to 350 Fahrenheit and place the carrots and garlic on a baking tray and drizzle with 1 tablespoon of olive oil. Place them in the oven to roast for 15 minutes.
Whilst the carrots are roasting, grab the cucumbers and using a veg peeler or a small knife, cut strips down the cucumbers.
Then cut each cucumber into slices about 2-3 inches long, depending on how deep you want your cucumber cups.
Using a melon baller or teaspoon, scoop most of the flesh from each cucumber, leaving a little at the bottom of the cup to hold in the filling.
Remove the carrots and garlic from the oven and place in a food processor with all the remaining ingredients, including the last 2 tablespoons of olive oil. Whizz on a high speed for 2-3 minutes, until the hummus is smooth and delicious!
Leave the hummus to cool in the fridge, before taking a tablespoon and dolloping the hummus into the cucumber cups!
https://pescetarian.kitchen/carrot-hummus-cucumber-cups/
Copyright Pescetarian.Kitchen