I absolutely love eating whole fish – partly because it looks so great on the plate and also because you get more of the healthy and delicious skin. Despite this, lots of people seem to avoid cooking whole fish; the reasons I hear most often are that people are a little intimidated by cooking a whole fish (as they haven't tried it before) or they think it's going to be really expensive. So I put together this recipe as evidence that whole fish can be prepared easily and quickly, and at very little cost.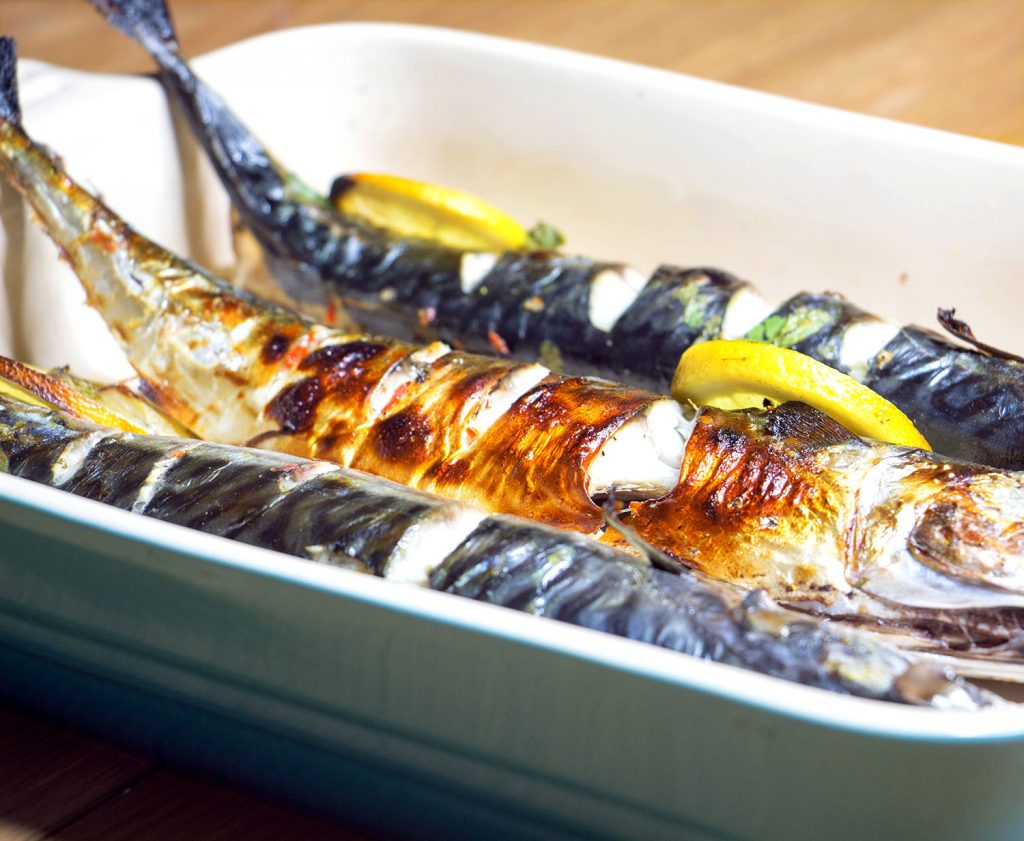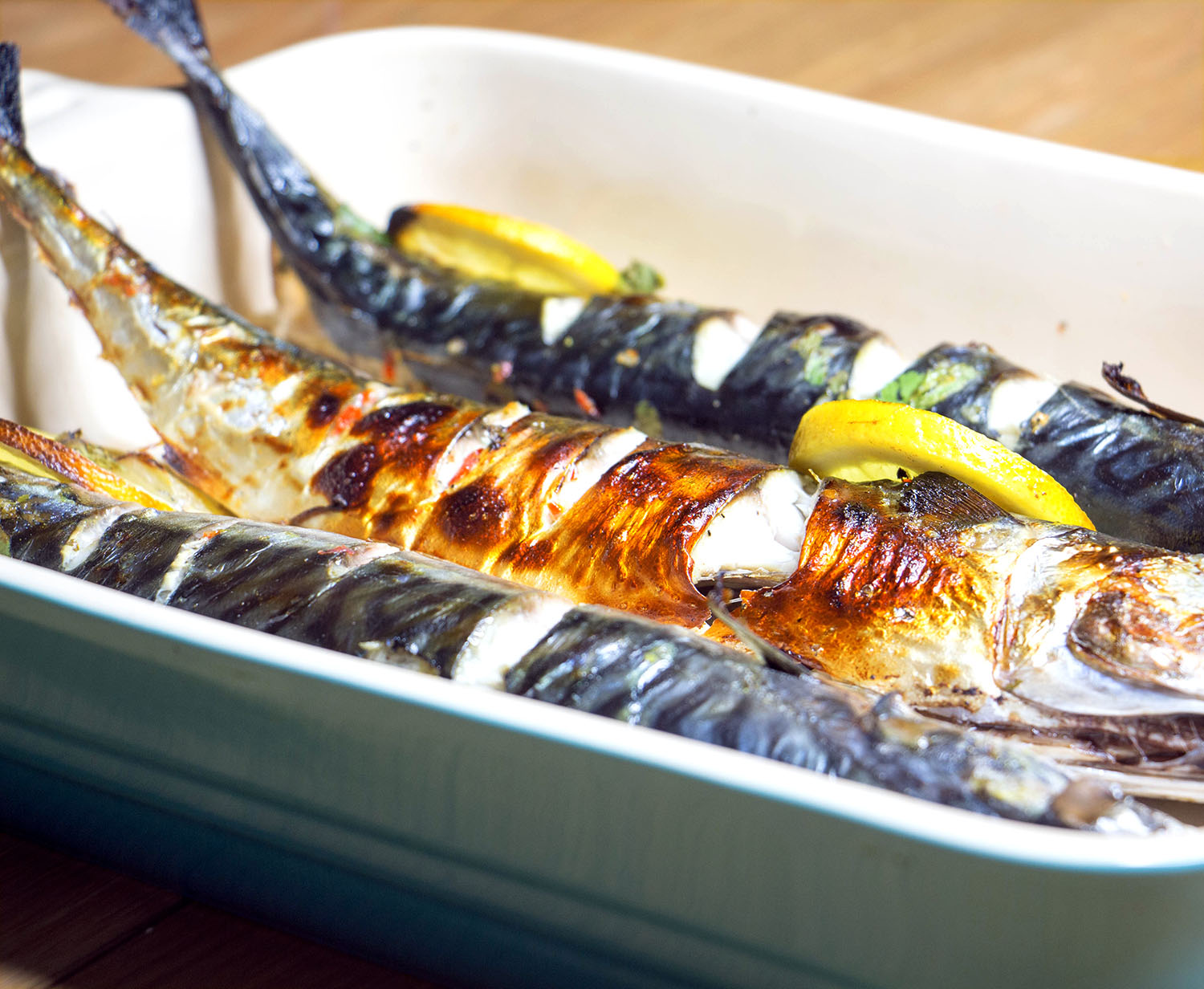 I used mackerel in this recipe. I find half a mackerel is usually perfect per person, but if you're cooking for particularly greedy/hungry  people you get up that amount. Each mackerel cost me around £3 at full price from the fish counter in my local supermarket, which is a great price and fairly usual for mackerel.
The marinade for the fish is zesty and almost Thai in its flavour. What's great is it uses very few ingredients and can be made up so quickly. I'd recommend serving with a nice fresh salad (our coconut and cucumber salad recipe would work great with the mackerel) and some rice.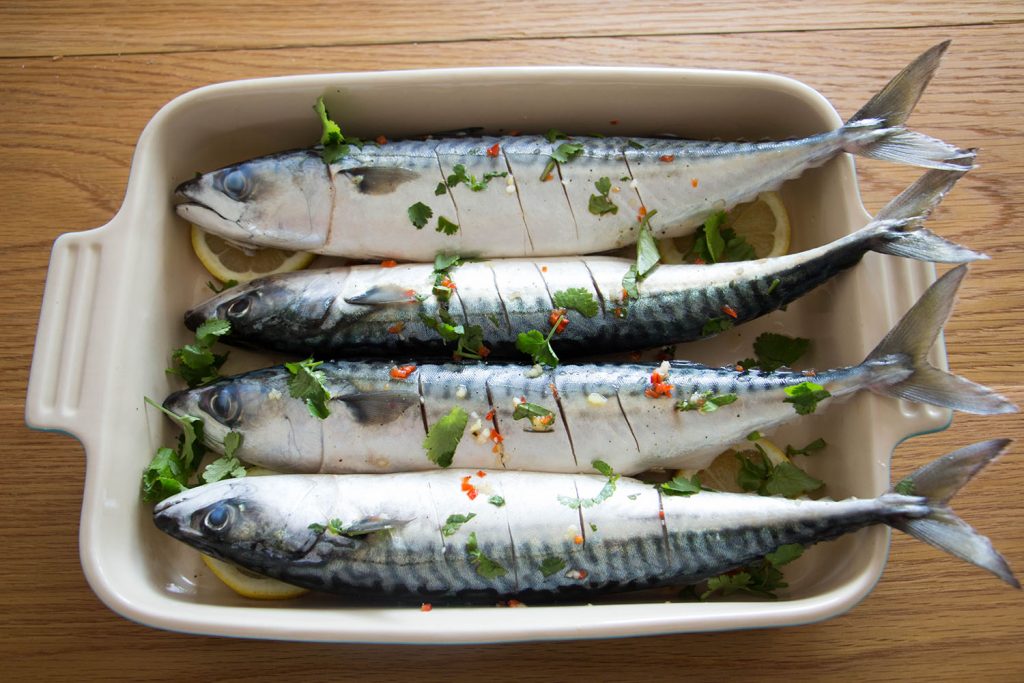 Garlic and lime grilled mackerel
Ingredients
Juice of 2 limes
1 red chilli, finely chopped
2 cloves of garlic, minced
1 tsp soy sauce
1 thumb of ginger, minced
2 handfuls fresh coriander/cilantro, finely chopped
1 lime or lemon, sliced into discs
3 whole mackerel
Method
Begin by mixing together the lime juice, chilli, garlic, soy sauce and half of the coriander/cilantro in a bowl and put to one side.
Get each of the whole mackerel and clean inside and out by running under cold water. Then score each fish 4 sides on each side. The scores should be in a diagonal direction and should just reach the bone. This will allow the marinade to soak into the fish when cooking.
Pour the marinade over the fish, making sure you turn the fish, so that the marinade gets into both sides. You don't want to have any marinade left so make sure you use it all.
Put the fish in large tray, cover with foil and leave in the fridge to marinate for a minimum of 3 hours.
When you're ready to cook your fish, put the grill on a medium heat, add you slices of lime or lemon into the fish tray, along with the other half of your coriander/cilantro and place the fish in the grill (make sure you're using a tray that can withstand high temperatures in the oven). I usually find that mackerel takes around 20-25 minutes in the grilled, depending on how crispy you want the skin to be. You will know the fish is done when you can place a fork into the deepest part of the fish; the fish should be white and flake easily. If the fish is looking a little translucent, put in back in the grill for another 3-5 minutes.
Remove the fish from the grill and serve up!
https://pescetarian.kitchen/lime-chilli-grilled-mackerel/
Copyright Pescetarian.Kitchen