Now my particularly long Christmas Break is over and I'm back in my kitchen, I've decided that I  need to get back into healthy eating (too much wine and dessert has been my downfall!) So I've been coming up with some healthy salads that taste great and actually fill you up!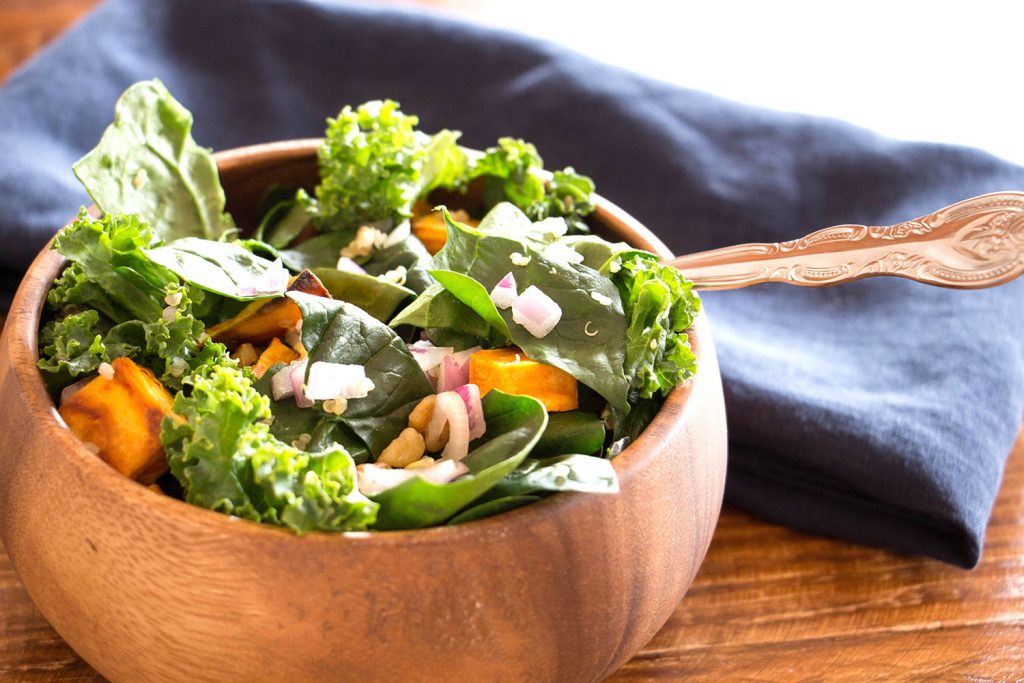 I love roasted sweet potato and I think it adds a great richness and texture to this leafy salad. It goes well with the crunchiness of the kale and the nutty, earthy taste of the walnuts. Quinoa is another of my favourite salad ingredients, as its super healthy but really helps to fill you up when you're ravenous after a busy morning. I always cook my quinoa in a stock, as it's so good at soaking up flavours, so usually, I'll just throw a vegetable bouillon cube into the boiling water before I add in the quinoa.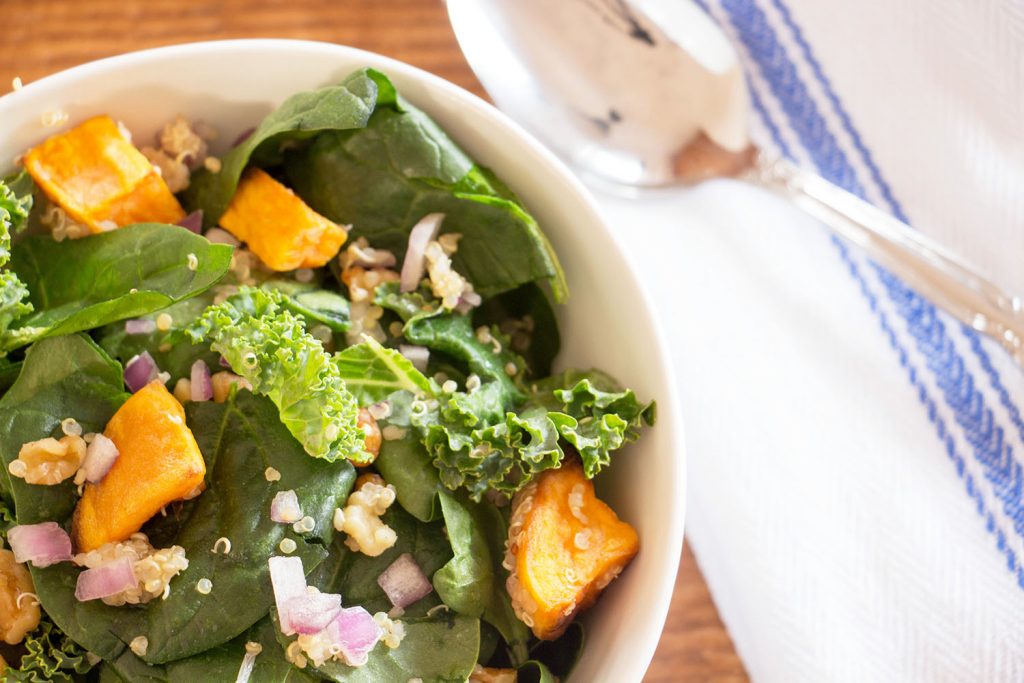 Roasted Sweet Potato and Quinoa Salad
Ingredients
50g quinoa
1 vegetable bouillon cube
1/4 tsp salt
1 sweet potato, peeled and cubed
4 tbsp olive oil
100g spinach, washed and torn
50g kale, washed and torn
1/2 red onion, finely chopped
30g chopped walnuts
Juice of 1 lemon
1.5 tsp Dijon mustard
1 tsp black pepper
Method
Preheat the oven to 400 Fahrenheit / 220 Celsius.
Start off by soaking the dried quinoa in warm water for around 5 minutes. Then drain it and add into 2 cups of boiling water, with 1 vegetable stock cube. Cook the quinoa for around 15-18 minutes.
Once the quinoa is cooked, drain it, spread it out on a large plate and leave to cool in the fridge,
Meanwhile, throw the cubes of sweet potato onto a baking tray and drizzle 1 tablespoon of olive oil over them. Place in the oven and leave to roast for around 25-30 minutes. Then remove from the oven and leave to cool on the side.
Whilst the sweet potato is cooling, get a large bowl and throw in the spinach, kale, red onion and walnuts. When they are cool, add in the sweet potato and quinoa and give the salad a good mix!
In a jug, add 3 tablespoons of olive oil, the lemon, black pepper and mustard and stir. This is your salad dressing.
Serve your salad in a large salad bowl and drizzle over as much dressing as you want!
https://pescetarian.kitchen/roasted-sweet-potato-quinoa-salad/
Copyright Pescetarian.Kitchen