Salmon goes perfectly with oriental flavours, and this recipe is so simple to execute, yet tastes so awesome!
We've made coconut rice to complement the spicy fish, but if you prefer to have a lot more of a kick to it then you could make some sticky rice (it's up to you). On the other hand, if you prefer less spice, avoid using a scotch bonnet chilli and replace it with a milder alternative (scotch bonnets can be pretty hot).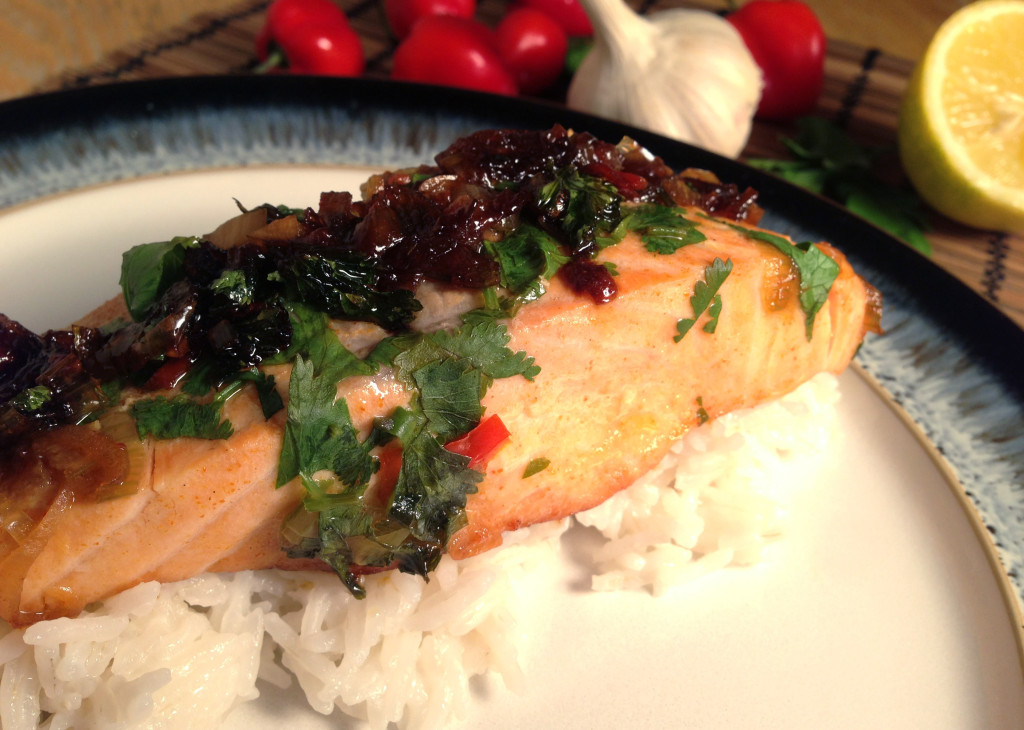 Oriental Salmon with Coconut Rice
Ingredients
260g salmon fillets
1 scotch bonnet chilli
1 lemon
3 spring onions
1 clove of garlic
2cm cube of fresh ginger
Glug of sesame oil
Glug of soy sauce
1 tsp cayenne pepper
Handful fresh coriander

Coconut Rice

130g basmatic rice
200ml water
1 tin of coconut milk
Method
Rice

Bring 200ml of water to the boil in a small saucepan and add a pinch of salt. Add the creamy part of the coconut milk (don't use the liquid) and then add your rice.
Cover the pan and leave to for around 10 minutes or until all the liquid is absorbed.

Salmon

Chop the tops off of the spring onions and add them to your food processor (or mini chopper) along with the garlic, coriander, chilli, cayenne pepper, soy sauce, fresh ginger and the juice of your lemon. Whizz everything together until it makes a rough paste.
Drizzle your salmon fillets with sesame oil and lightly spread over the paste you've just made over the top of each fillet.
Heat a medium-sized frying pan over a high heat and add a splash of oil. Cook the salmon skin-side down for around 4 minutes and then finish by turning it over and cooking for 30-45 seconds.
Serve up the salmon on a bed of the coconut rice and garnish with a few coriander leaves.
https://pescetarian.kitchen/oriental-salmon/
Copyright Pescetarian.Kitchen