This is a recipe that I've been cooking since university. All of the guys in our crappy little house loved it and it meant that when I cooked it, they'd do the washing up afterwards and I'd get a beer (which was great).
Since then, I've worked on improving the wild mushroom risotto recipe and now it's one of me and Laura's favourite meals.
Serving this up with some fresh, crunchy garlic bread is a real winner. If you want to reduce down the carbs in the meal then you can replace the rice with pearl barley (here's a pearl barley risotto recipe for you).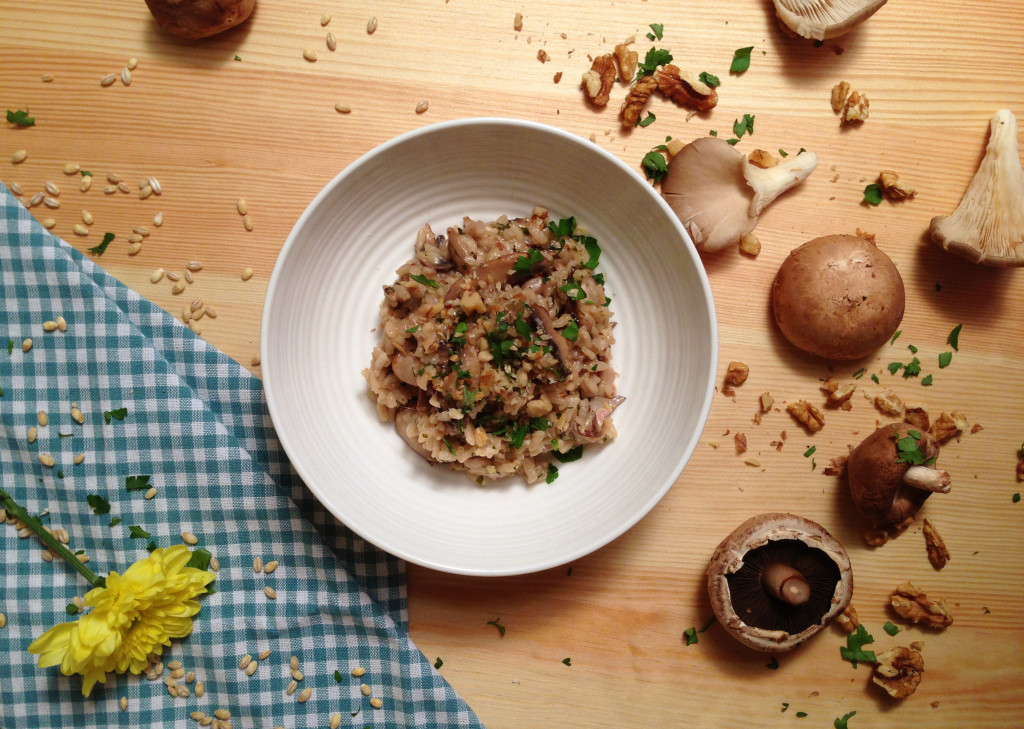 Ingredients
150g arborio rice
50g mini portobello mushrooms
50g shitake mushrooms
50g oyster mushrooms
400ml vegetable stock
100ml white wine
1 echalion shallot (chopped)
30g chopped walnuts
50g fresh mozzarella (vegetarian friendly)
2 tbsp creme fraise
Pinch dried chilli flakes
Method
Heat a large frying pan over a high heat and add a big glug of rapeseed oil (you can use olive oil but I prefer rapeseed). Once the oil has heated up, add the chopped shallot and leave to brown for 2 minutes, stirring regularly.
Once the onion has browned, add the rice and fry in the oil for around 30-45 seconds, ensuring that all of the rice is coated in the oil. You'll notice that the rice will start to go a slightly translucent colour - this is when it's time to add the white wine. Just pour it straight into the pan and leave it to simmer, turning down the heat slightly, until all of the liquid has been absorbed by the rice.
Once the wine is absorbed, add around 100ml of the vegetable stock along with the dried chilli flakes. Stir everything regularly to ensure that nothing sticks to the pan. Once the vegetable stock is nearly completely absorbed, add another 100ml along with all of the mushrooms and the walnuts.
Keep stirring everything around in the pan and add another 100ml of vegetable stock once the last lot has nearly absorbed (don't let it completely dry out). When you've added the final amount of vegetable stock (it should have been cooking for around 15-20 minutes now), tear up the mozzarella and add it to the pan, mixing it around. It'll take a little while to melt, but once it does it will add a creamy texture to the risotto.
Finally, add the creme fraise and mix well, turning the heat down to low. Stir the pan on the heat for another 2 minutes and then remove it from the hob.
Leave the risotto to cool for a minute or so before plating it up and you can then serve it up with some fresh garlic bread. If you're a real cheese lover then you can grate over some hard cheese (remember that parmesan isn't veggie friendly).
https://pescetarian.kitchen/wild-mushroom-risotto-recipe/
Copyright Pescetarian.Kitchen