This one pot rice dish is one of the easiest recipes to make when you don't want to be hovering over the stove all evening. It's quick to make and requires very little attention. I like to make this when I'm in a rush and have a fair few people over. Making it in bulk is super simple (just make sure your pot is big enough as the rice will expand!) and it doesn't require too many ingredients so it's also a fairly good cheap eat.
Even better, this one pot dish is really low in fat and contains more than a quarter of your recommended daily protein! Perfect if you're after a quick and healthy meal this January!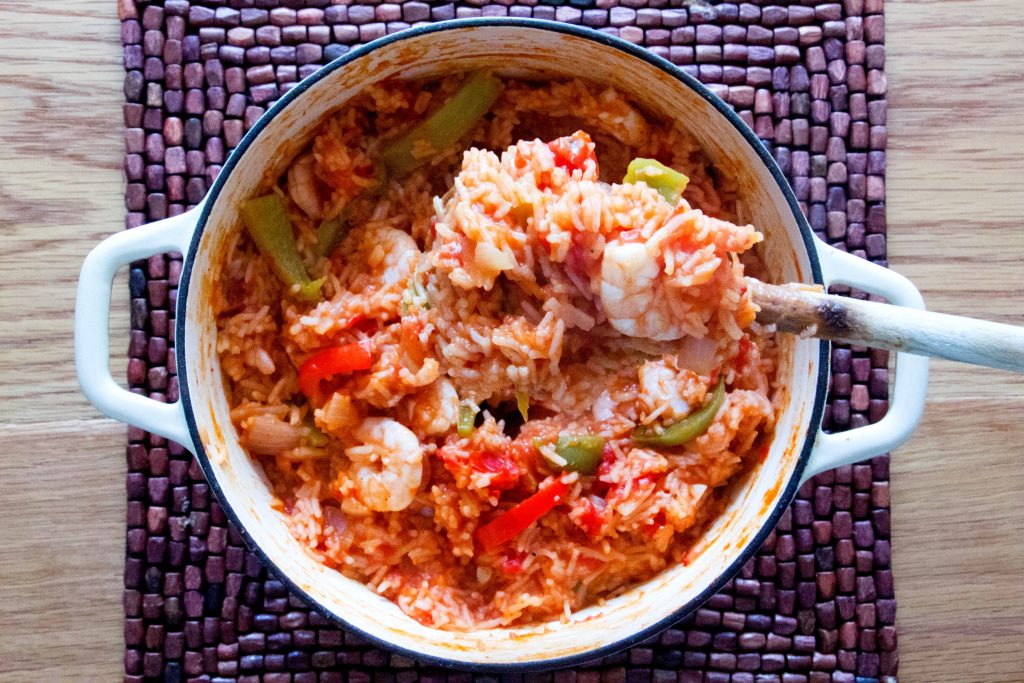 ShrimpPaella Style One Pot
Ingredients
1 tbsp olive oil
1 large onion, roughly chopped
1/2 green pepper, roughly chopped
1/2 red pepper, roughly chopped
1/2 red chilli pepper, roughly chopped
4 garlic cloves, roughly chopped
1 tin chopped tomatoes
100g vine tomatoes, quartered
250g raw shrimp
1 tsp paprika
1 tsp black pepper
1/2 tsp sugar
Juice of 1/2 a lemon
300g basmati rice
Method
Grab a large pot and place it over a medium heat on your hob. Add in a glug of olive oil and fry the onions for around 2 minutes.
Add in the peppers, garlic, chilli, paprika and tomatoes and fry for a further 4 minutes.
Then add in the rice and chopped tomatoes, followed by 600ml boiling water. Give it a good stir, then put the lid on your pot and leave for 15 minutes.
Remove the lid and give the rice another good stir, then leave for a further 5 minutes. Give the sauce a little taste - if it's still a little tart, add the teaspoon of sugar.
Add in the shrimp and stir until they are covered. It should take around 5 minutes for the shrimp to all turn pink and cook through completely.
Add in the lemon juice and season to taste!
https://pescetarian.kitchen/prawn-paella-style-one-pot/
Copyright Pescetarian.Kitchen