Fish cakes are one of my go-to starters at any restaurant. They're a really versatile meal that can be served on their own with a side-dip (sweet chilli sauce works well here) or be part of a larger main meal with fresh vegetables or a salad.
The other great thing about fish cakes is that they're really simple to make. When you look at the ingredients list it can look like it's going to be quite a bit of work, but honestly it isn't. In short, you'll be poaching the fish in milk and then mashing everything together (no food processor needed) and then covering them in breadcrumbs – once you've done this they sit in the over for 25-30 minutes and then they're good to eat.
That doesn't sound too bad, does it?
Sometimes I'll even prepare these the night before to save on some time and then they can just sit in the fridge overnight until you want to cook them up the next day. They even work well as a lunch snack to bring into the office with you.
Oh, and if you're not overly keen on salmon then you can easily replace this with a different fish – I quite like to use white fish like cod, haddock or hake. We also made a crab cake recipe a while back that you may enjoy.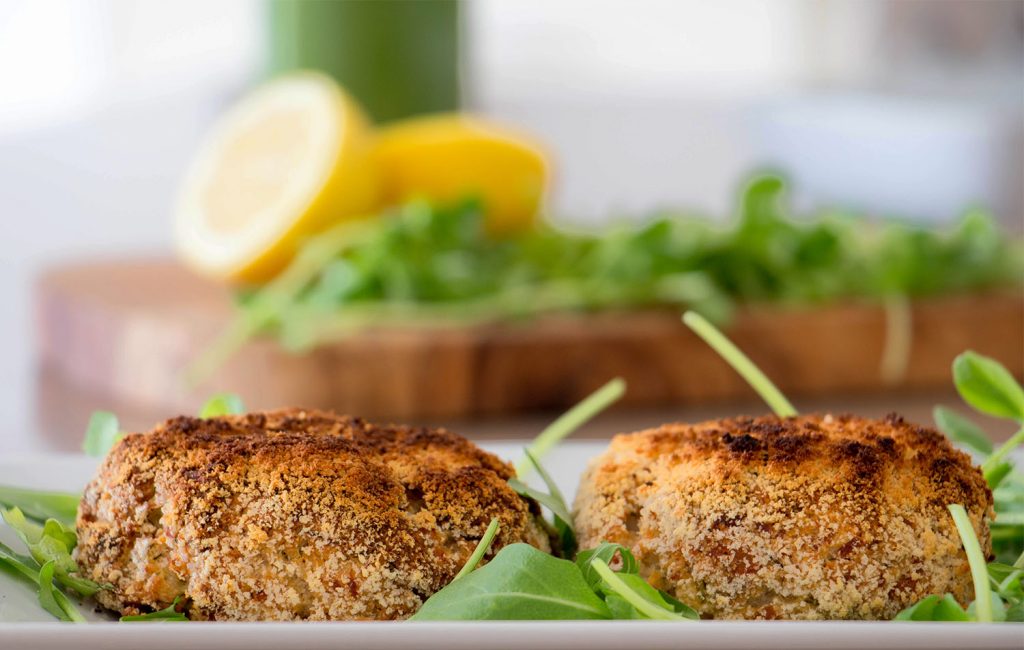 Ingredients
knob of butter
250ml whole milk
650g potatoes, peeled
10g fresh dill
400g salmon
150g breadcrumbs
5 spring onions
50g cheddar cheese, grated
1/2 lemon
Method
Start by preheating the oven to 220 Celsius/390 Fahrenheit.
Put a pan on medium heat and add in the butter, milk, a pinch of salt and half of the fresh dill. Poach the salmon in the milk for around 10 minutes, then remove the salmon from the pan. Pour the milk into a jug for later use.
Get a large pan of boiling water and boil the potatoes for around 30 minutes, or until they are fairly soft and you can cut through them easily with a knife.
Get a spoon and mash up he salmon until you have small salmon flakes. Add in the rest of the dill, 50g of the breadcrumbs, salt, pepper, the spring onions, 100ml of the poaching milk, the cheddar cheese and the juice from the half lemon. Give it all a good mix together.
Drain the potatoes, add to them the rest of the poaching milk and mash the potatoes well.
Combine the salmon mix and the mashed potatoes until the mix is fairly sticky and can be combined into balls.
Next you'll need to shape each individual fish cake by creating a ball and flattening is slightly with either a spatula or the palm of your hand if you don't mind being messy! Put the fishcakes in the fridge for 15 minutes so they can stiffen slightly.
When the fishcakes come out of the fridge, they need to be dipped in the remaining breadcrumbs until they are fully covered. Once this is done, place them in the oven for around 25 minutes. At this point the breadcrumbs should have turned a golden brown.
Serve with a wedge of lemon and a light and zesty salad.
https://pescetarian.kitchen/salmon-fish-cakes-recipe/
Copyright Pescetarian.Kitchen