Since getting our new food processor, I've been trying out loads of new recipes that make use of it – this is one of them. To be honest, you could actually make these crab cakes fairly easily without the use of a processor, but it just makes it a lot simpler and quicker with one.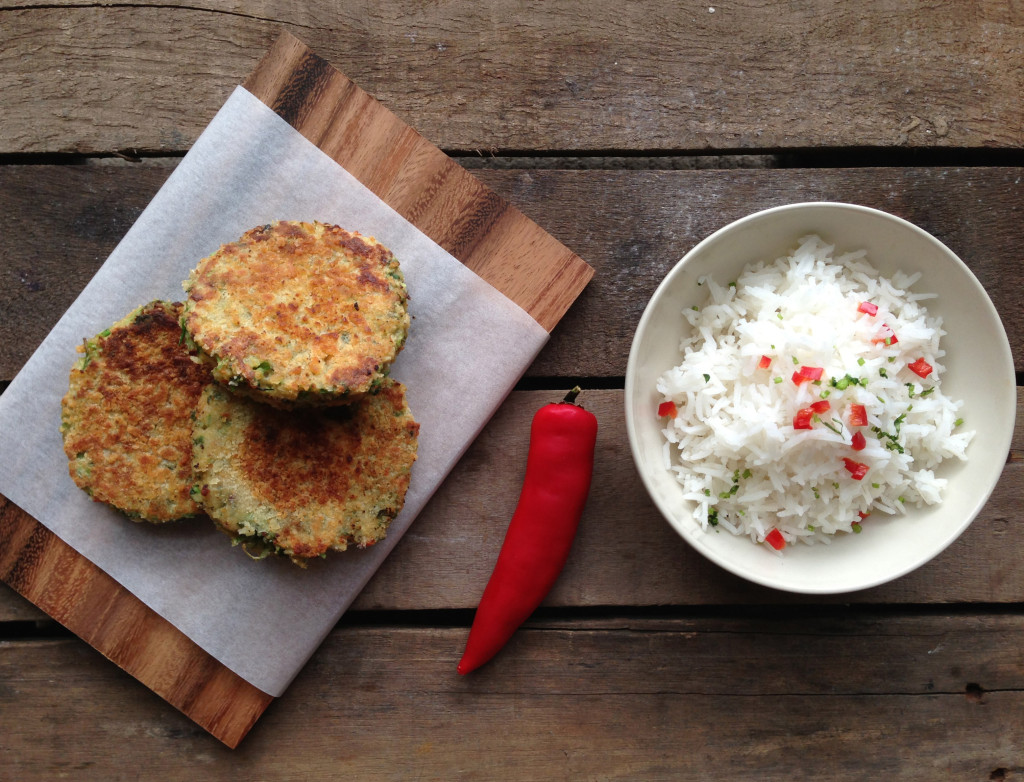 When it comes to serving up the crab cakes, we just made some simple sticky rice using arborio rice, a squeeze of lemon and some chopped fresh chilli. To be honest, you could serve these up with a ton of different things. One idea would be with a fresh oriental salad, dressed with sesame oil, another could be something as simple as placing them in a bun and having them as small burgers – whatever you're in the mood for.
Also, another thing worth mentioning is the type of crab meat you use in the cakes. I LOVE white crab claw meat (you can buy this in a tin from Morrisons, Waitrose, Tesco or Sainsbury's), but you could use regular white crab meat. I'd just recommend against using brown crab meat for this recipe as it wouldn't taste quite right. Alternatively, you could use half and half white meat and brown meat, but in my opinion, the best taste comes from the crab claw.
If you have an crab claw meat left over then you could try out our fish pie recipe that uses it – it's one of my favourite meals that Laura makes!
Ingredients
115g white crab claw meat
3 spring onions
1/2 red chilli
1 clove garlic
2 tbsp plain flour
2 free range eggs
1/2 lemon
2cm cubed fresh ginger
Handful of fresh coriander
8-10 tbsp white breadcrumbs
Glug of olive oil
Pinch of salt
Pinch of pepper
Method
To make the breadcrumbs, add two slices of white bread (preferably stale) to the food processor and whizz them into breadcrumbs.
Remove half of the breadcrumbs from the food processor along with the crab claw meat, the spring onions, chilli, garlic, ginger, coriander, salt, pepper, the juice and zest of the lemon, and one of the eggs. Whizz them in the food processor briefly until they make a rough paste.
Split the mixture into four parts and roll them into burger shapes. Dust each of them with the flour on both sides, then beat the other egg and wash the crab cakes lightly in it on each side. Once they've been washed with egg, cover them with the rest of the breadcrumbs.
Heat a large frying pan over a high heat and add a generous glug of olive oil. Add the crab cakes to the pan and fry for around 4 minutes on each side until they're a nice golden colour. Remove from the heat and serve them up with some sticky rice and a small side salad.
https://pescetarian.kitchen/thai-crab-cakes/
Copyright Pescetarian.Kitchen