I was down at a blues festival a few weeks ago and during my time there I had some of the most delicious falafel wraps that I've ever eaten. As soon as I got back I decided that I was going to try and recreate them, with a few little twists.
Now, both Laura and I pre-prepare a load of these at the start of the week, refrigerate them and then have them for lunch throughout the week. They take less than 10 minutes to prepare so it's the perfect snack!
If you don't want to have them as wraps then you could easily make these as burgers and place them in a brioche buns – they'll be equally good.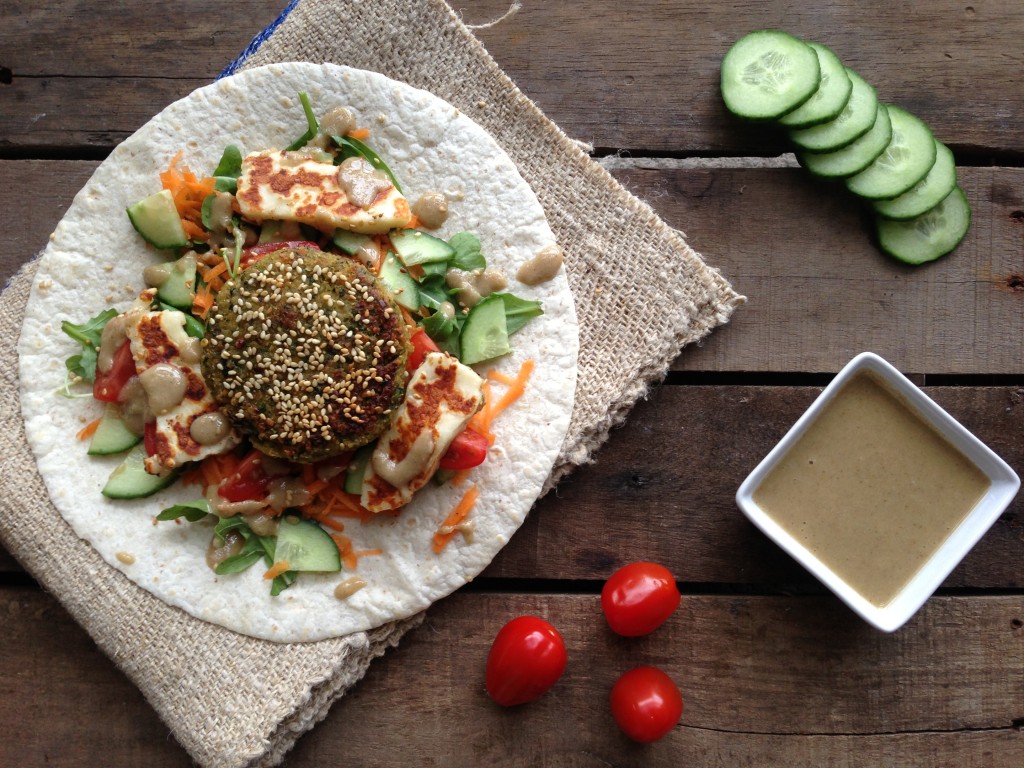 Sesame Falafel Wraps with Homemade Tahini
Ingredients
Falafel

400g chick peas (tinned is fine)
2 echalion shallots
1 clove of garlic
1/2 red chilli
Handful of fresh coriander
1 tbsp ground cumin
100g sesame seeds
2 tbsp plain flour

Wrap Salad

1 carrot (grated)
60g fresh rocket/watercress
1/2 cucumber (sliced)
60g vine cherry tomatoes (halved)
50g halloumi
3 tortilla wraps

Tahini

300g sesame seeds
60ml olive oil
Method
Falafel

Add all of the ingredients except the sesame seeds into a food processor and blend it all together until it's a rough, wet texture. Make sure you've thoroughly rinsed the chick peas in cold water before adding them.
Once all the ingredients are blended, add half a teaspoon of salt and pepper to the bowl and mix it all around.
It's now time to make the falafel mixture resemble something that looks like burgers. To do this, take one heaped tablespoon of the mixture and work it into a ball. Do this until all of the mixture is gone - you should have around 6 balls (you may get more if you're lucky!). Place the sesame seeds on a large plate and roll each of the balls of falafel in them until they're coated in them.
Once all of the balls are coated in sesame seeds, flatten them down into small burgers.
Place a large frying pan over a medium/high heat and add a generous glug of olive oil. Once the oil has heated, add the falafel burgers and fry for around 3 minutes on each side. It's as simple as that.

Tahini

Add the sesame seeds and the olive oil to a blender and blitz it all until it becomes a smooth paste. If you find the mixture is too thick, add a little more olive oil.
Once it's finished in the blender, season with salt/pepper to taste (for this amount, half a teaspoon of each should be perfect), then give it a stir. Once you've used a little, cover and store in the refrigerator (it will last for around a month).

Wraps

In the same pan that you fried the falafel in, fry the slices of halloumi for about 45 seconds on each side (until they brown).
Heat the tortillas for around 15-20 seconds in the microwave and then fill with the different salad items (you can add more if you prefer). Add the fried halloumi, a teaspoon of tahini and the falafel. I usually add 2 falafel burgers per wrap, but I'm pretty greedy!
To finish, sprinkle some sesame seeds in the wrap and fold it up.
https://pescetarian.kitchen/falafel-wraps-tahini/
Copyright Pescetarian.Kitchen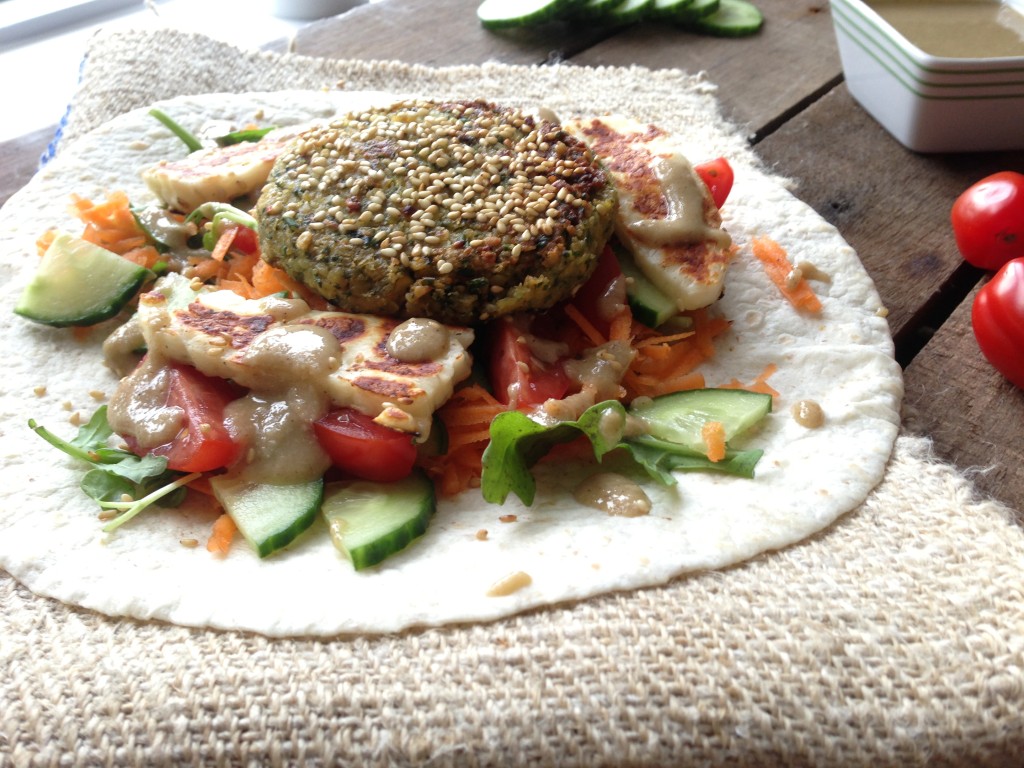 The homemade tahini is so simple to make and it lasts for around a month in the fridge (just make sure you keep it covered).