This is a really simple pie recipe, so even if you're not exactly a master chef, you should be able to follow these instructions and get something that tastes great at the end!
There's no pastry involved in this pie recipe, it's topped with crispy potato. The last time we made these, we had them as a meal on their own but you could easily have homemade chips or a side salad with them if you're feeling particularly peckish.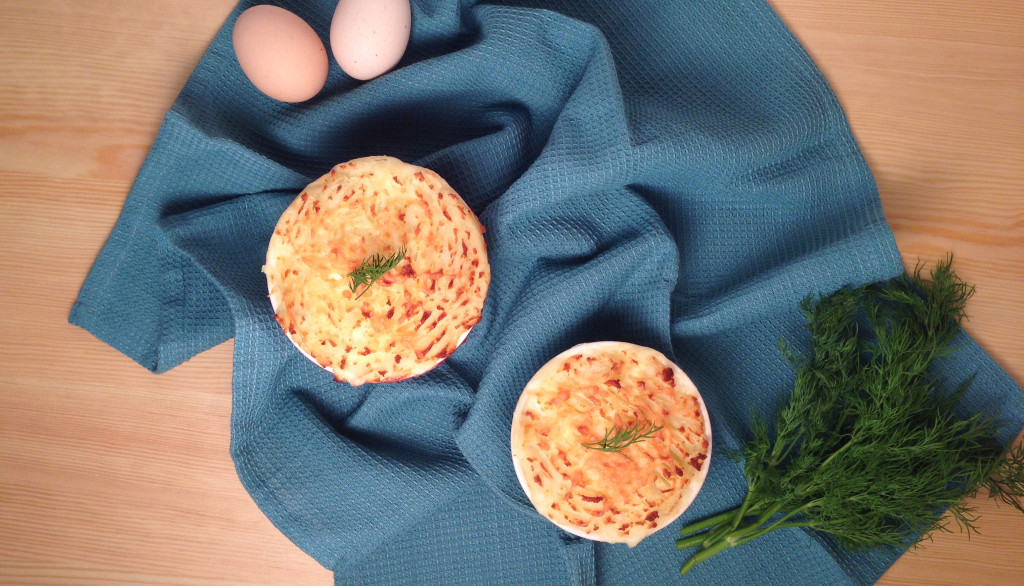 Ingredients
200g salmon fillets
4 medium-sized potatoes
Handful of fresh dill (chopped)
1 free range egg
30g vegetarian cheddar
150ml whole milk
1/2 unwaxed lemon
Method
Peel and chop your potatoes and place them in a pan full of salted boiling water. Put the pan on a medium/high heat and boil for around 20.
After 10 minutes, add your free-range egg to the pan of boiling water and leave it for the remaining 10 minutes until it is hard-boiled.
Whilst the potatoes and egg are on the boil, heat up your milk in a deep frying pan on a medium heat. Don't put the heat too high or you'll burn the milk, just make sure that you're stirring the milk regularly to avoid a skin building up. Once the milk starts to boil, turn the heat down and add in your salmon fillets and fresh dill. Leave the fish to poach for around 5 minutes.
After 5 minutes, take the frying pan with the salmon in off of the heat. Season with salt and pepper, then add the zest of half a lemon. The salmon should be lovely and tender now so just use a wooden spoon and flake it apart until it is mixed in well with the milk and remove from the heat.
Drain off your potatoes, rinse them in cold water and mash them. I prefer to use a ricer for this as it adds a lovely fluffy texture. Once they've been riced, add a generous knob of butter, season with salt and mix it all together. Now put this to one side.
Add the contents of your frying pan (salmon/milk/dill) to individual ramekins. Fill them around half way and then peel your free-range boiled egg, slice it and add into the ramekins as well. Finally, add a layer of potato, around 2-3cm thick, to the top of each ramekin and top with a small amount of the grated cheese.
Bake your ramekins (make sure they're oven-proof) in a pre-heated oven at 180 degrees Celsius / 350 degrees Fahrenheit / Gas mark 4 for 20 minutes or until the potato has turned a golden colour on top.
https://pescetarian.kitchen/salmon-potato-pies/
Copyright Pescetarian.Kitchen