Both me and Laura eat a lot of pasta. Whilst it can often be a quick option and a lot of vegetarian/pescetarians can often rely on it as a primary meal source, you also need to be aware of the level of carbohydrates you're taking in – we try to eat pasta no more than twice a week.
When you do eat pasta, this recipe is amazing. It takes no time at all to prepare and it's a really fresh meal to have.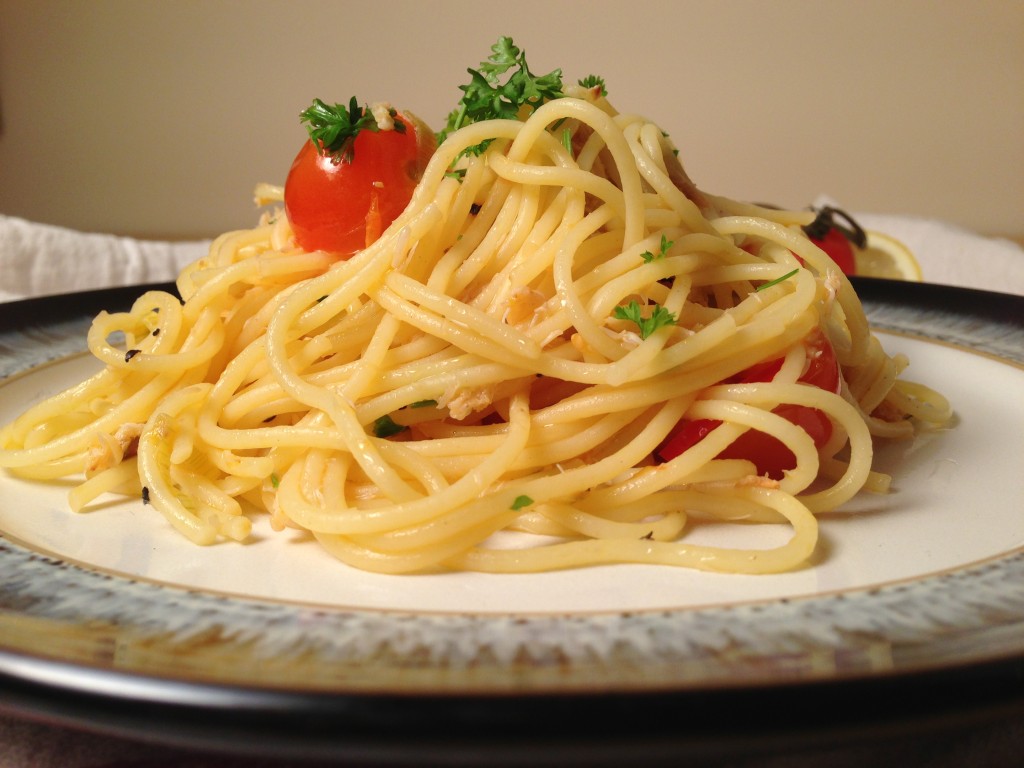 Ingredients
170g white crab meat (tinned is fine)
200g fresh spaghetti
1/2 a red chilli (finely sliced)
3 spring onions (finely sliced)
100g vine cherry tomatoes
1 clove of garlic (finely sliced)
Bunch of fresh parsley (chopped)
1/2 an unwaxed lemon (juice and zest)
120ml white wine
Glug of rapeseed oil
Method
Heat a frying pan on a medium/high heat and add a small splash of rapeseed oil. Add the tomatoes, chilli and spring onion then leave them to fry for around 2/3 minutes, stirring regularly.
Meanwhile, add the spaghetti to a pan of salted boiling water and cook for around 3 minutes (or as long as it says on the pack). Once it's ready, strain the pasta, rinse it thoroughly with cold water and then add a generous glug of rapeseed oil all over to lightly coat the spaghetti.
Put the pasta to one side and then add the white wine to the saucepan full of veg. Add the garlic, the crab meat and the zest of half a lemon. Now stir the mixture frequently for a couple of minutes.
Add in the spaghetti to the pan and mix it all together with the crab and veg. Turn down the heat to a low heat and keep mixing everything around in the pan for 2-3 minutes until the pasta has heated back up and took on some of the flavour of the pan.
Serve up a portion on the plate and garnish with a few leaves of parsley and some lemon zest.
https://pescetarian.kitchen/crab-lemon-spaghetti/
Copyright Pescetarian.Kitchen