Smoked cod is one of my favourite fish to eat. I didn't actually realise until a few weeks ago that the yellow colour that fish goes once it's been smoked has nothing to do with the smoking process – it' actually colouring that's added. Who'd have know!
Laura and I tend to eat smoked cod at least once a month. It's cheap and really versatile to cook with. It goes great in fish pies, with pasta or breaded with chips.
Within this recipe you can use any kind of pasta really. I prefer fusilli but you could swap this for whatever is in the cupboard really.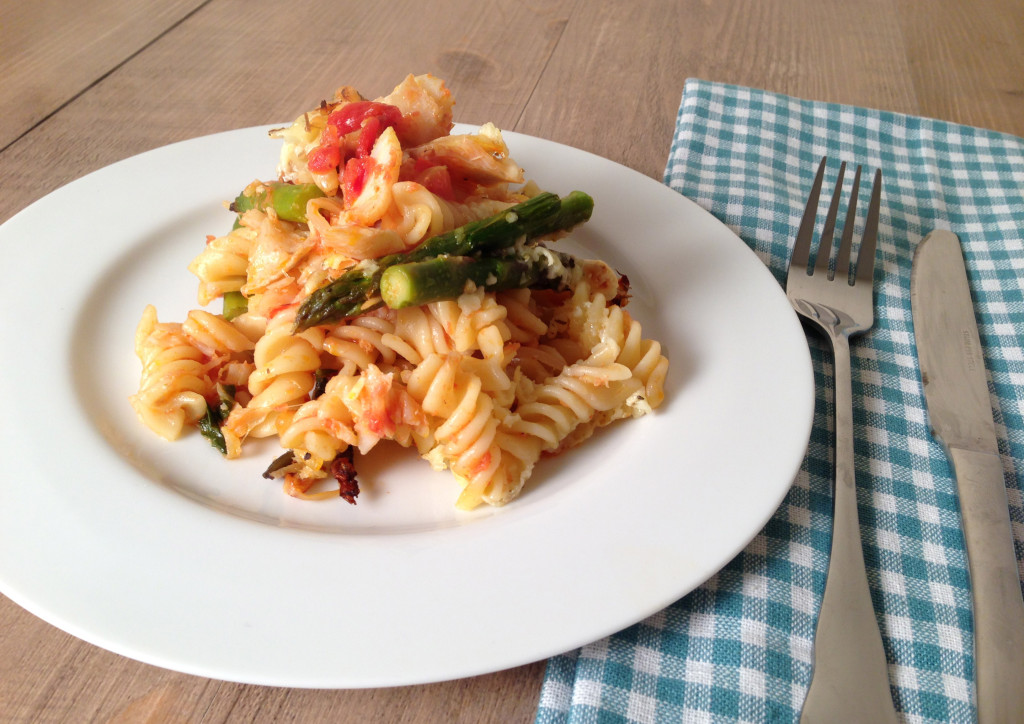 Ingredients
250g smoked cod loin
110g dried fusilli pasta
30g pumpkin seeds
30g pine nuts
5x asparagus tips (cut into quarters)
1 tin of chopped tomatoes
50g wild mushrooms (sliced)
2 cloves of garlic (finely chopped or grated)
1/2 red chilli (sliced)
6 vine tomatoes
Handful fresh basil (torn)
1 enchalion shallot (finely chopped)
100g vegetarian cheddar (grated)
Method
Preheat the oven at 200 degrees Celsius / 392 degrees Fahrenheit / Gas mark 5.
Boil the pasta in a deep saucepan full of salted water for between 8-12 minutes (check the pack instructions for exact cooking time).
Place a frying pan on a medium/high heat and add a glug of olive oil. Once the oil has heated up, add in the shallot, garlic, chilli and vine tomatoes, then cover the pan and leave for 5 minutes.
Remove the lid and add the pumpkin seeds and pine nuts then turn the heat down slightly. Leave to fry for another minute.
Add the cod loin (whole) to the pan and season well with salt/pepper. Then pour over half the tin of chopped tomatoes and add the asparagus and basil. Cover the pan and leave for 4 minutes.
The cod will have softened now so use the back of a wooden spoon to flake apart the cod into smaller chunks (this is much easier than chopping the cod before-hand). Mix everything together well and add in to a deep oven-proof dish (a casserole dish will be perfect). Also, drain off the pasta and rinse with cold water then add it to the oven-proof dish. Finally, scatter the grated cheese over the top and place within the oven with the lid off for 20 minutes.
Take out the dish and leave to cool for a minute before serving up.
https://pescetarian.kitchen/smoked-cod-pasta-bake/
Copyright Pescetarian.Kitchen