There's nothing I hate more as a quick meal than those crappy, soggy pre-made pizzas that you can buy from the supermarket. Pizza dough is actually really easy to make and it tastes so much better this way.
Not only this, but it's WAY healthier to make the dough yourself.
The only real extra time it takes comes from waiting for the dough to rise, which generally takes an hour. If you really can't wait, just get a pre-made pizza dough mix and then mix it up with water. This tastes much better than a pre-cooked base that you're essentially reheating.
When it comes to the toppings of this pizza, you can do whatever you like. I love really fresh vegetables and salad, in particular rocket and parsley, but like I said, this bit it up to you.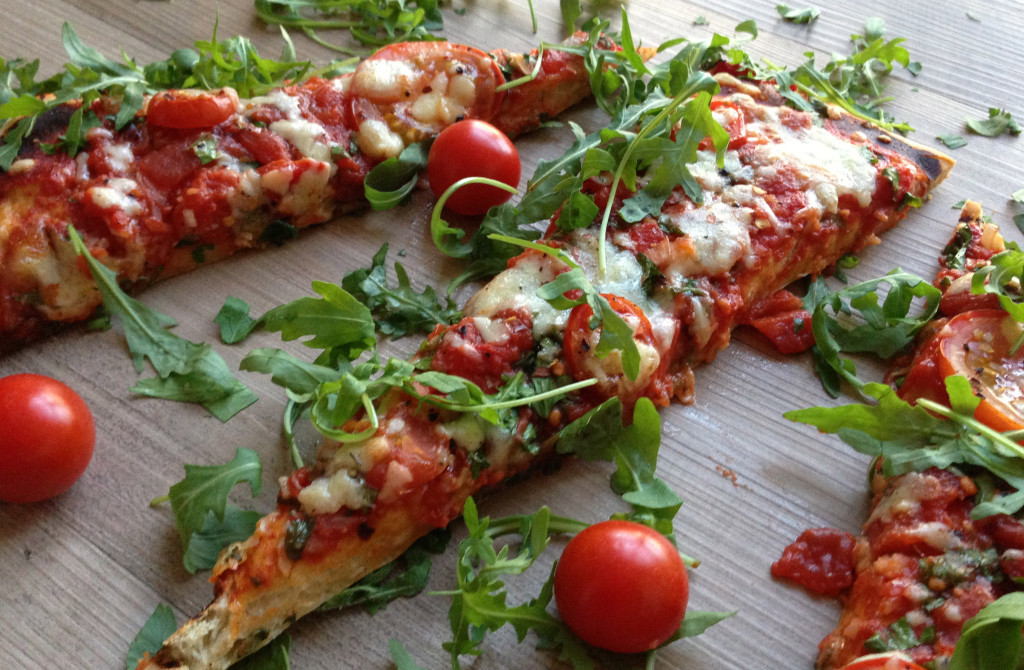 Homemade Vegetarian Pizza
Ingredients
Pizza Dough

300ml tepid water
400g white bread flour
7g dried yeast
2 tbsp extra virgin olive oil
1 tsp salt
1 tsp caster sugar

Topping

50g mozzarella
100g mature cheddar (veggie-friendly)
1 tin chopped tomatoes
30g fresh parsley (roughly chopped)
100g tomato purée
10ml olive oil
1 beef tomato (sliced)
1 clove garlic (finely chopped)
1 shallot (finely chopped)
30g fresh rocket
Pinch of sea salt
Handful of cracked black pepper
Method
Pizza Dough

In a measuring jug, mix together the water, olive oil, sugar and yeast, then leave to one side for 2-3 minutes.
Sift the flour into a large mixing bowl with the salt and make a well in the middle of it.
Pour in the water/yeast/sugar/oil mixture into the well and slowly mix it into the flour with a fork. Don't just throw all of the flour into it at once; take your time and add it gradually. Once the mixture it starting to thicken up, shape it into a ball of dough with your hand (make sure you dust your hands with flour first).
Remove the dough from the bowl and kneed it for 5 minutes until it become soft and springy. A good way to test this is to poke your finger into the dough and see if it springs back into shape.
Lightly dust the dough in flour and add it back to the mixing bowl. Cover the bowl with a damp tea towel and place it within a warm cupboard for around an hour (I tend to use our airing cupboard). By the time you remove the dough it should be around twice its size.
Finally, remove the dough from the bowl and briefly kneed it to knock out all of the air within it (this should take more than 30 seconds). If you're making two large pizzas, cut the dough in two with a knife and roll them out into flat pizza bases. This recipe could also make 4 small pizzas.

Pizza Topping

Drain the tin of chopped tomatoes over a sieve and then mix with the tomato purée, olive oil, garlic and shallot. Now spread this mixture evenly over the base of your pizza.
Scatter over the chopped parsley, the slices of tomato and the mozzarella (just rip the cheese up). Now grate over the cheddar and sprinkle it with salt and pepper.
Add the pizza to a pre-heated oven (180 degrees Celsius / 350 degrees Fahrenheit / Gas mark 4) and cook for 15 minutes. Once the pizzas are ready, leave them to sit for 30 seconds and then scatter fresh rocket over the top.
https://pescetarian.kitchen/homemade-vegetarian-pizza/
Copyright Pescetarian.Kitchen