If you've note tried orzo before then you're missing out. It's a type of pasta that feels and looks almost like arborio rice (the kind you use in a risotto), but it has that fresh pasta taste. Laura often makes up some orzo and has it cold within salads, taking it to work for lunch mid-week. I prefer if hot within recipes like this, but it's also great as a leftover when it's gone cold! Just a quick note that the cooking time of the orzo pasta will vary so just check on the back of the pack before you get going. It usually takes between 8-10 minutes though, so not long at all.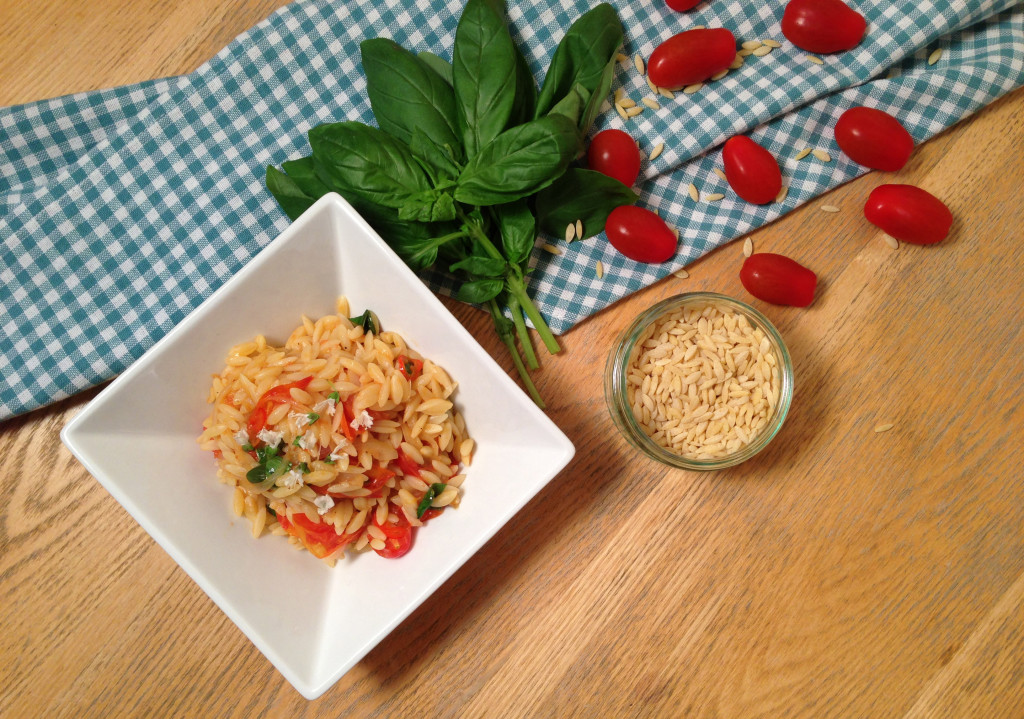 Tomato, Basil and White Wine Orzo
Ingredients
150g dried orzo pasta
100g plum tomatoes (halved)
1/2 lemon
1 clove of garlic
1/2 red chilli (finely chopped)
Handful fresh basil
6-10 basil flowers (for garnish - these aren't essential)
1 shallot (finely chopped)
50ml white wine
Method
Place the pasta within a saucepan full of salted boiling water and leave on a rolling boil for 8-10 minutes (or however long it says on the pack of pasta).
Meanwhile, heat a frying pan on a medium heat and add a splash of rapeseed oil (much less cholesterol than olive oil). Add the chopped shallot, chilli, garlic and plum tomatoes to the pan and stir for 5 minutes.
Add the white wine to the frying pan and leave it for another 3-4 minutes to reduce down.
Once the pasta is finished, take it off the heat, drain it and rinse thoroughly in cold water. Now salt/pepper the orzo and add it directly to the frying pan.
Add a the juice of the lemon and the fresh basil (rip the basil leaves into smaller chunks with your hands - don't chop them with a knife), and then mix everything together thoroughly. Leave this for a maximum of two minutes until the pasta has heated back up.
Serve the pasta onto a round plate or bowl and sprinkle over the basil flowers as a nice looking garnish. If you grow basil then you'll be able to just pick these off the tops of the plant - they taste really good and have a subtle aniseed flavour.
https://pescetarian.kitchen/tomato-basil-white-wine-orzo/
Copyright Pescetarian.Kitchen