Laura and I love this recipe and usually have it at least once a month. It's very simple to prepare and you can use pretty much any type of fish that you like – perfect if you've got a few odd fillets at the end of the week.
In this recipe I've used haddock fillets and crab claw meat, but each time we make this dish we use different fish. Sometimes we'll use salmon and cod, whilst others we use mackerel, sea bass and prawns – they all work great so it's really just your personal preference. The crab claw meat is amazing within the pie though and you can even go as far as mixing in the crab meat into the mash potato.
Just make sure that you have a good deep dish to cook the pie in because if it's too shallow or not wide enough then your pie isn't going to look that pretty. We sometime use our big Denby bowl if we're cooking a big batch, but most of the time it works in our ceramic baking tray.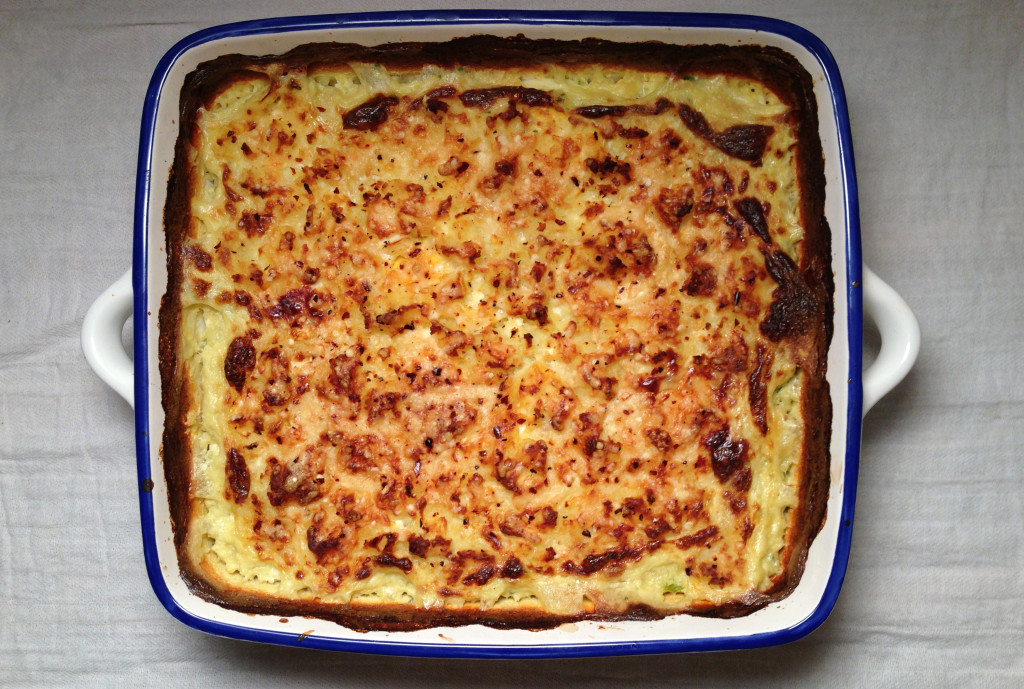 Haddock and Crab Fish Pie
Ingredients
350g haddock fillets
200g crab claw meat
200ml whole milk
500g maris piper potatoes
2 free range eggs (hard-boiled)
Bunch of fresh parsley (chopped)
1 bay leaf
50g of ricotta
100g mature cheddar
20g salted butter
Handful dried chilli flakes
Method
Peel the potatoes and chop them into rough pieces (around 4cm cubes). Pour them into some salted boiling water within a pan and leave them for around 20 minutes.
Whilst the potatoes are boiling, heat all of the milk in a large frying pan on a medium heat. Add the chopped parsley, bay leaf and the haddock fillets and leave to poach for around 10 minutes. Make sure that you season the fish with salt and pepper as well.
Add in your 2 free-range eggs to a pan of boiling water for around 8 minutes until they are hard-boiled.
The fish should now be nice and soft, you can now flake it apart with a wooden spoon into smaller chunks (this is a lot easier than chopping it into pieces when it's raw). Now take the fish off of the heat.
Once the potatoes are ready (poke them with a blunt knife to see if they're soft), strain them in a colander and run them through a potato ricer. You can use a potato masher if you like but I always find that a ricer adds the perfect texture to your mash. Now add the butter, a pinch of salt and pepper and the ricotta, and then mix it all together. You can also add a quarter of the crab meat to the mash potato to give a lovely fishy flavour, but that's up to you.
It's now time to add the contents of your frying pan (milk/haddock/parsley) into your baking tray. Be sure to remove the bay leaf though, you don't want to end up chewing on that. Just spread out the mixture across the surface of your tray and then the rest of your crab meat and your two hard-boiled eggs (cut them into quarters).
Spoon over the potato evenly across the fish in your baking tray, making sure that you've covered it all. Now grate the cheddar over the top of the potato and add a handful of dried chilli flakes.
Place the tray into the oven at 180 degrees Celsius / 356 degrees Fahrenheit / Gas mark 4 for 30 minutes until there is a golden crispy colour to the top of the pie. Make sure you leave it to cool for a few minutes before serving.
https://pescetarian.kitchen/haddock-crab-fish-pie/
Copyright Pescetarian.Kitchen