Vegetable lasagne is one of those dishes that I love to eat both on a cold winter night to keep me warm and on a sunny spring afternoon with a cold beer. It's a really versatile dish and the vegetables that you use within it can be changed each time you make it.
If I could, I'd add walnuts to every meal that I make but I think Laura would get pretty fed up with me doing it! Having said that, this vegetable lasagne dish is one where I have a free rein to add as many walnuts as I like (I LOVE walnuts). As a result, the lasagne has a nutty, crunchy top to it that adds a unique flavour to it. Once you try it, you'll be wondering why you never thought of it before!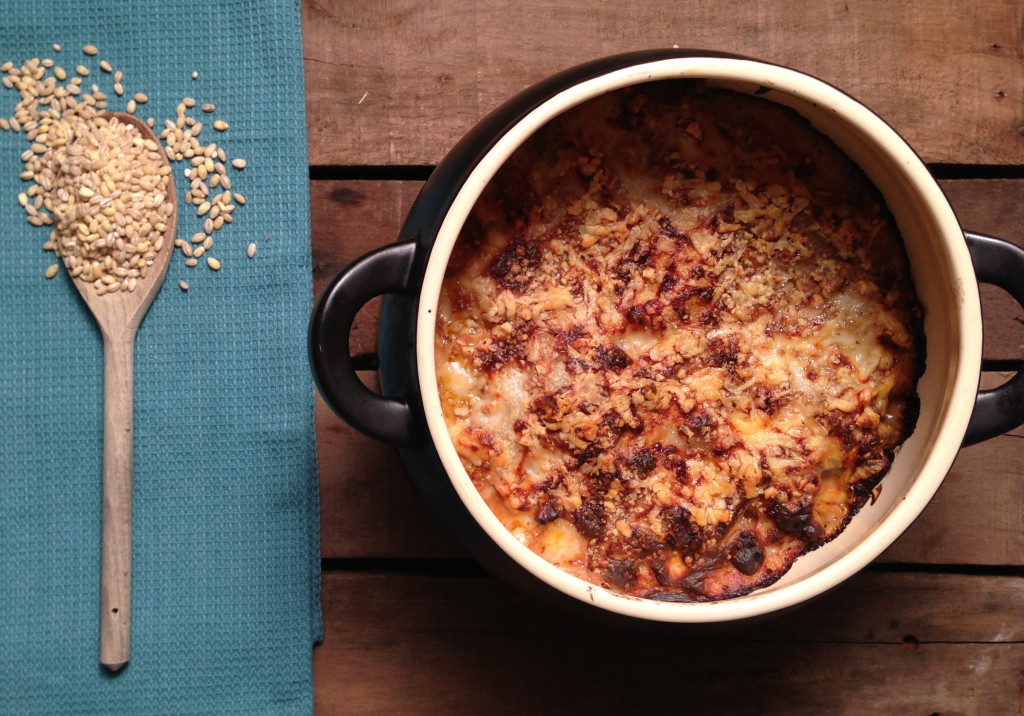 Walnut and Vegetable Lasagne
Ingredients
1/4 red chilli
1 aubergine (sliced into chunks)
5 asparagus (chopped into 1cm discs)
200g vine cherry tomatoes
2 cloves of garlic
1/2 brown onion (sliced)
1 echelon shallot (sliced)
100g chestnut/wild mushrooms
80g chopped walnuts
Handful of fresh basil and oregano
Glug of olive oil
Glug of balsamic vinegar
6 dried lasagne sheets (or enough to fill 3 layers of your dish)
Juice of half a lemon
100g strong cheddar (grated)

Bechamel Sauce

30g salted butter
1 tbsp plain flour
1 clove of garlic (finely chopped)
200ml semi skimmed milk
Method
Preheat your oven at 200 degrees Celsius / 392 degrees Fahrenheit / Gas mark 5.
Heat a glug of olive oil into a medium-sized frying pan on a high heat.
Add your chopped shallot, onion, garlic and cherry tomatoes to the pan, cover it (with a lid or just some tin foil) and leave it for 5 minutes, stirring occasionally.
Uncover the pan and add the aubergine, asparagus, chilli, mushrooms, half the walnuts, the fresh basil and oregano, the chopped tomatoes, the juice of half a lemon, and finally, the balsamic vinegar. Stir the mixture frequently for around 10 minutes, lowering the heat slightly.
Whilst this is simmering, it's time to work on the bechamel sauce. First add the butter to a small saucepan (on a medium heat) along with the garlic. Add the flour and mix to a paste.
Gradually add the milk, 40ml at a time and mixing very well. Do this until all of the milk is used up and the sauce is nice and smooth.
Bring the sauce to the boil and then take it off of the heat.
It's now time to add everything to your baking tray. Start by layering in the vegetable mixture from your frying pan, add a couple of sheets of lasagne on top and then smooth over a thin layer of bechamel sauce. Grate a small amount of chaddar on top of the bechamel and repeat until you have three layers. On the top, grate a good amount of cheddar and sprinkle the rest of the walnuts evenly over the top.
Add thee tray into your preheated oven for around 25-30 minutes, until the top of the lasagne is golden.
https://pescetarian.kitchen/walnut-vegetable-lasagne/
Copyright Pescetarian.Kitchen