Fish stews are awesome winter meals to make, but considering we're deep into the summer, I thought I'd add a bit of sunshine to the dish.
In terms of the fish that you add into this recipe, you can be pretty flexible. Next time I make this I'll add in some prawns and maybe some quid, so give that a try.
Another thing worth mentioning is that this a great dish to make when you've got a load of friends or family around. You can cook it all up in one big pot and let everyone help themselves.
Just grill some fresh ciabatta drizzled in olive oil and you've got the perfect side to go with the fish stew.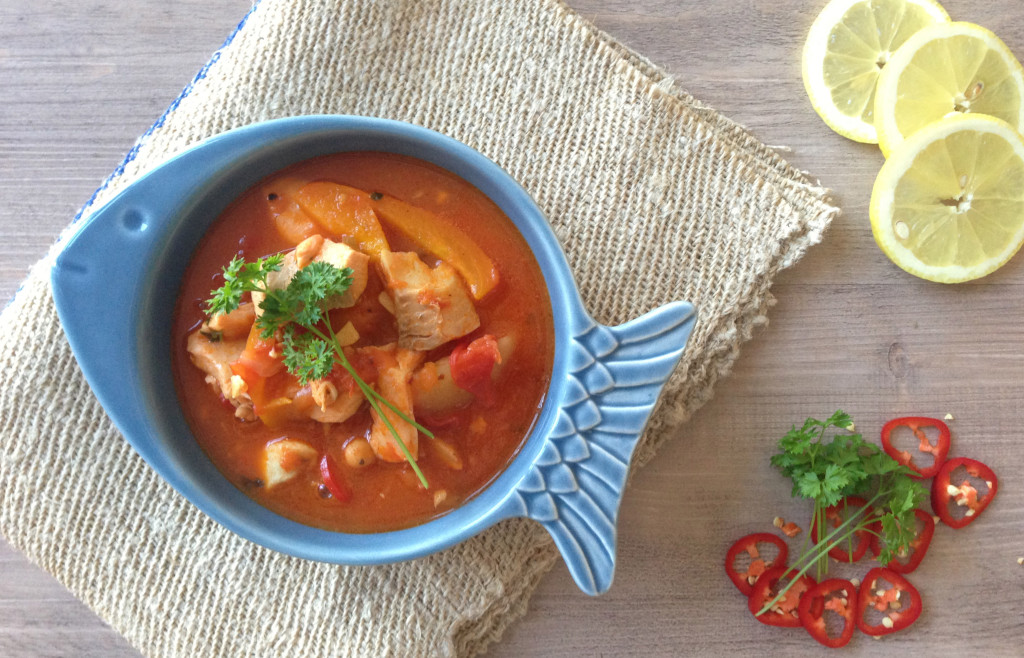 Ingredients
250ml fish stock (we use Knorr stock pots)
150ml white wine
100g salmon
100g haddock
100g smoked cod
100g chick peas
300g vine ripened tomatoes (peeled and chopped)
1/2 tin of chopped tomatoes
250g white fluffy potatoes (maris pipers are perfect)
1 tbsp tomato puree
2 cloves garlic (chopped)
1/2 red chilli (chopped)
1 orange or yellow pepper (chopped)
1 white onion (chopped)
1 tsp cayenne pepper
1 unwaxed lemon
Handful of fresh parsley (chopped)
Glug of olive oil
Method
In a large saucepan, add the olive oil and fry the onion, garlic and chilli on a high heat until they start to brown.
Add the tomato puree and the cayenne pepper, then stir it into the onion/garlic/chilli to make a wet paste.
Once you've created a paste, add the vine-ripened tomatoes, tin of tomatoes, chopped pepper, potatoes (peel and cut them into small chunks), chick peas and the zest/juice of the lemon. Season to taste with salt and pepper then cook on a high heat for 10 minutes.
Add the chopped parsley, wine and stock and cook for a further 10 minutes. This should reduce down the contents of the pan slightly and bring out all of the flavours of the vegetables.
Once the wine has reduced, add the fish and cook for another 10 minutes. Make sure you're occasionally stirring the pan at this stage. Also, you don't need to worry about cutting the fish into smaller chunks beforehand because once they've cooked for 3-4 minutes you'll be able to flake them apart with a wooden spoon.
Take off the heat and leave to settle for 2-3 minutes before serving with some grilled ciabatta.
https://pescetarian.kitchen/mediterranean-fish-stew/
Copyright Pescetarian.Kitchen