If you're in a hurry but you want a really tasty meal, stir fry Shrimp are perfect.
I've been eating tons of sesame seeds recently so this recipe was cooked to fuel my sesame seed addiction! If you're not a fan of sesame then you could always replace the sesame oil with vegetable oil and just remove the seeds from the Shrimp – it'll still taste great (but not as great!).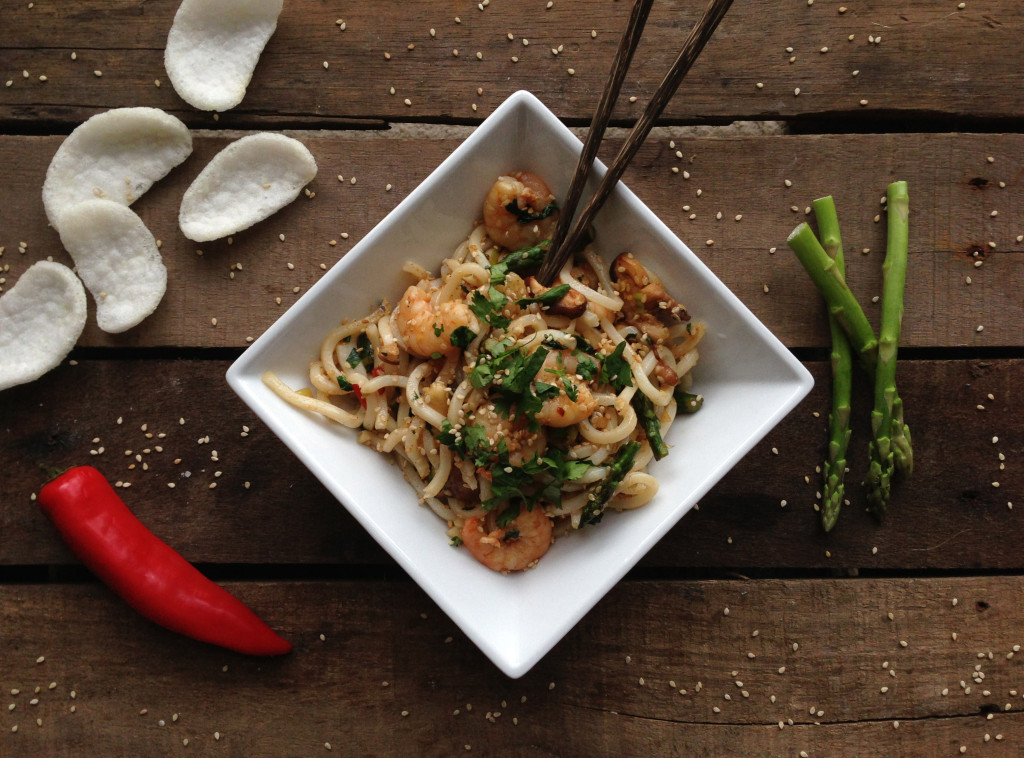 Stir Fry Sesame Shrimp Noodles

Ingredients
125g raw peeled king shrimp
50g asparagus tips (chopped)
50g shitake mushrooms (chopped)
3 spring onions (chopped)
1 clove of garlic (finely chopped)
2cm cube of fresh ginger (finely chopped or grated)
Glug sesame oil
Glug of soy sauce
100g sesame seeds
35g cashew nuts
1/2 lemon
300g thick udon noodles
Handful fresh coriander (chopped)
Pinch of five spice
Method
Prepare the shrimp by coating them with a splash of soy sauce and then rolling them in the sesame seeds until they're mostly covered.
Heat a wok on a high heat and add the sesame oil to the pan. Once the oil has heated (takes around 10-20 seconds) add the spring onions, asparagus, garlic, ginger, mushrooms and cashew nuts, then stir them regularly for 2-3 minutes.
Add the shrimp to the wok and fry for around 1 minute. Now add the fresh coriander, noodles, five spice and the juice of half a lemon. Stir everything in the wok regularly and leave to fry for another 2-3 minutes. The shrimp should be fully cooked by now but just check that they're completely pink through - if they are, remove from the heat and serve up. Garnish with a few leaves of coriander and a sprinkle of sesame seeds.
https://pescetarian.kitchen/stir-fry-sesame-prawn-noodles/

Copyright Pescetarian.Kitchen