Tuna steak is a really meaty fish, so it's one of the closest textures you'll get to an actual beef steak. The cooking process is also fairly similar.
I like my tuna steak really rare, and just in case you're panicking, it's absolutely fine to eat tuna steaks rare, just as long as they're fresh (i.e. haven't been frozen beforehand).
Now, when it comes to marinating the tuna, the ideal time to do this for would be 1-2 hours. Having said that, you could easily just give it a few minutes and it will taste great (I'm terrible for forgetting to marinade things!).
Essentially, the longer you marinade the fish, the more that the flavours will infuse into it. Just make sure that you leave it in the fridge, covered with cling film when you're marinating.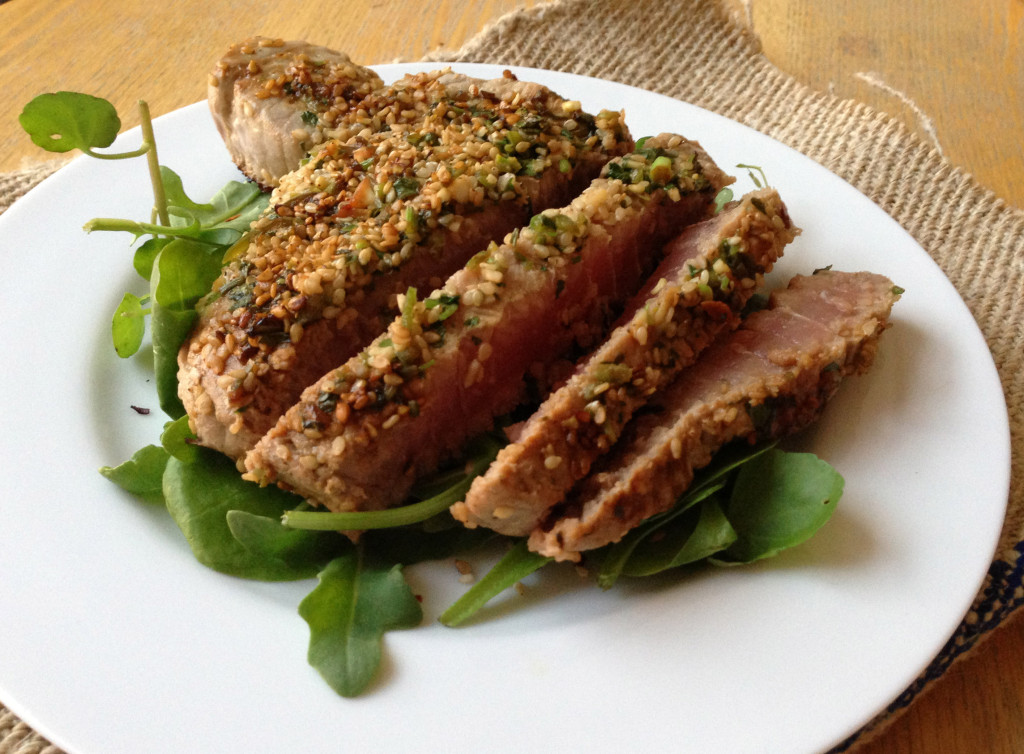 Marinated Tuna Steak with a Sesame Crust
Ingredients
400g fresh tuna steaks
30g fresh coriander
20ml soy sauce
1 lime
1/2 green chilli
1 clove of garlic
20ml sesame oil
50g sesame seeds
Method
Finely chop the coriander, chilli and garlic then add them to a mortar bowl. Using your pestle, lightly crush the ingredients together for 10-20 seconds.
Add the soy sauce and the lime juice to the bowl and lightly mix it all together with your pestle (if you don't have a pestle and mortar then you can use a bowl and the end of a rolling pin).
Coat the tuna steaks with the contents of your bowl, making sure to massage the mixture into to both sides. Now place the steaks in a separate bowl, cover it with cling film and leave in the fridge to marinade for 1-2 hours.
Once the tuna has finished marinating, remove from the bowl and drizzle some sesame oil over one side of them. Once you've lightly coated the side in oil, pour over some of the sesame seeds to cover it. Turn the steaks over and repeat this process.
Heat up a griddle pan on a high heat and add the tuna steaks to it. Cook them for 2-3 minutes on each side - they should be a beautiful pink colour on the inside. If you'd prefer to use the grill to cook these then you can do - the timings are the same.
https://pescetarian.kitchen/tuna-steak-recipe/
Copyright Pescetarian.Kitchen