This devilishly good chocolate torte is rich and almost truffle-like in texture.  It uses dark chocolate (around 60-70% cocoa) to create the perfect balance of bitter and sweet.  And because it's flourless, this torte is also the perfect desert idea for anyone with wheat or gluten intolerances!
This recipe requires very few ingredients and is very quick to prepare, making it perfect for if you want to impress dinner guests without spending all day baking. Serve this torte with freshly whipped double cream and handful of sharp berries, such as raspberries or blackberries.
If you want to store this cake for a couple of days before serving, I'd recommend keeping it in an airtight container in the fridge.  It's particularly good served cold and because it's flourless it won't go stale in the fridge like regular cakes and tortes will.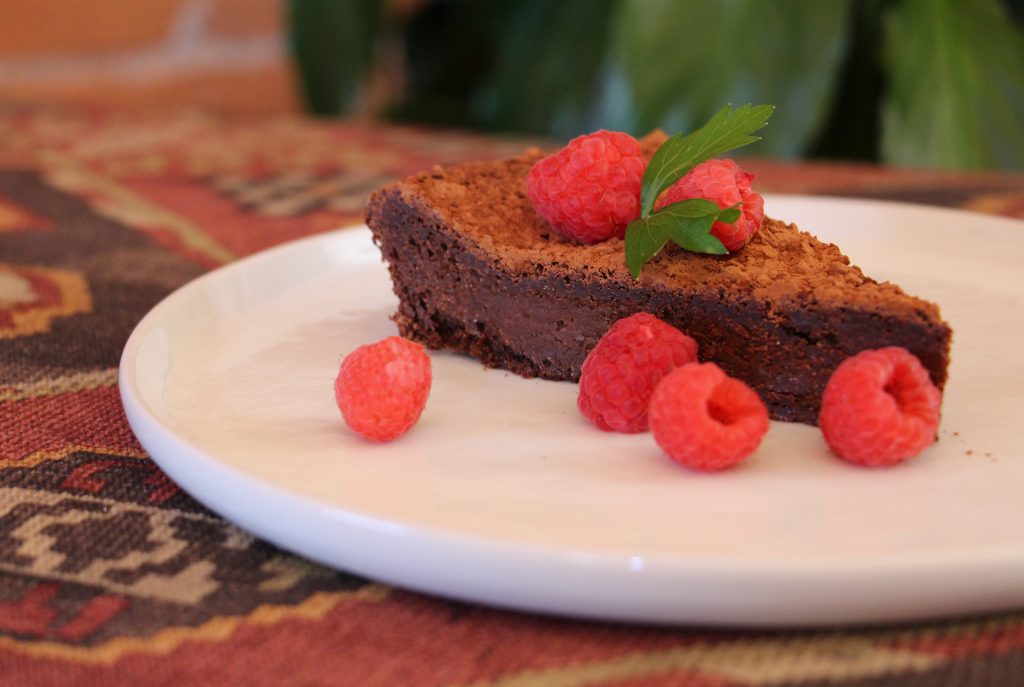 Gluten Free Flourless Chocolate Torte
Ingredients
165g butter
340g dark chocolate
6 large eggs
125g sugar
10g cocoa powder
Method
Preheat the oven to 190 Celsius.
Grease a 9 inch spring form cake tin with either butter or cooking spray and put to the side.
Now a saucepan of water on a medium heat. Place your chocolate and butter in a glass bowl and position over the saucepan to melt them. The key here is to ensure that the bottom of the bowl is not dipped into the water, as this will burn the chocolate.
In a second bowl, crack the 6 eggs and add the sugar. Then using an electric whisk, beat the eggs and sugar for around 4 minutes, until the mixture has paled and thickened. You can do this with a hand whisk, but I wouldn't recommend it unless you're after a serious arm workout, as it will take around 8-10 minutes!
Once your chocolate mixture has melted, pour half of it into the egg mixture and gently fold. When it's combined, pour in the rest of your chocolate mixture and fold again.
Next, carefully pour all of the batter into your cake tin and place in the oven. You should bake for around 35-45 minutes, until the centre of the torte no longer wobbles.
Place the cake tin on a rack and leave to completely cool. Once cool, remove the torte from the spring form tin and lightly dust with the cocoa powder.
Serve with whipped cream and fresh berries.
https://pescetarian.kitchen/gluten-free-chocolate-torte/
Copyright Pescetarian.Kitchen